JCMS held our annual 3rd quarter reward - Chicken Run Tournament on Friday! The winning class at each grade level will receive a pizza party. We had a great day! Champs: 5th - Bellet's Purple Barneys 6th - Sleik's Slayers 7th - Goetten's Goats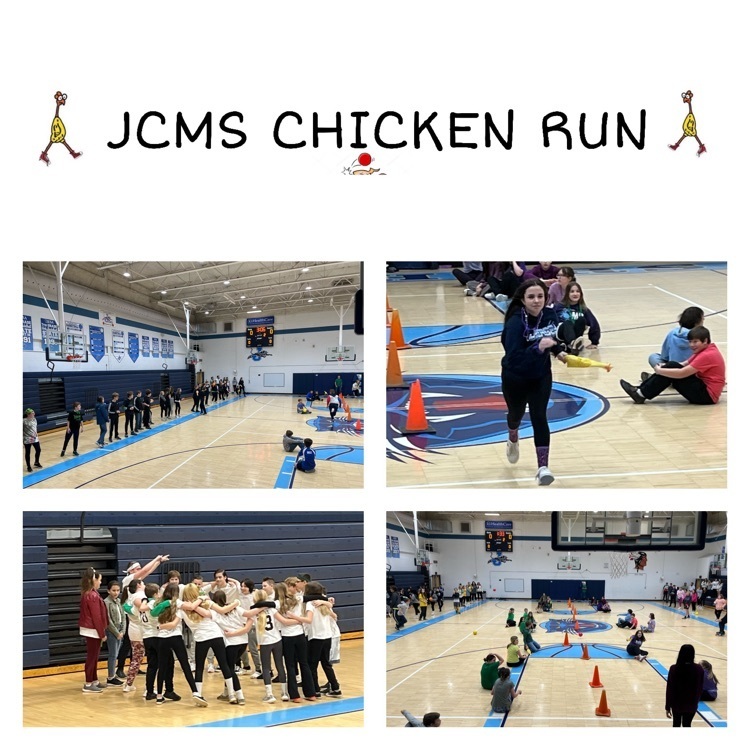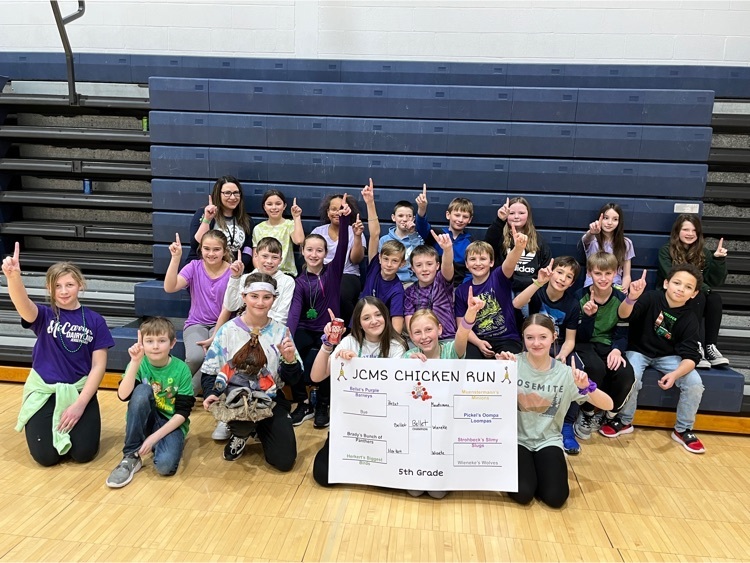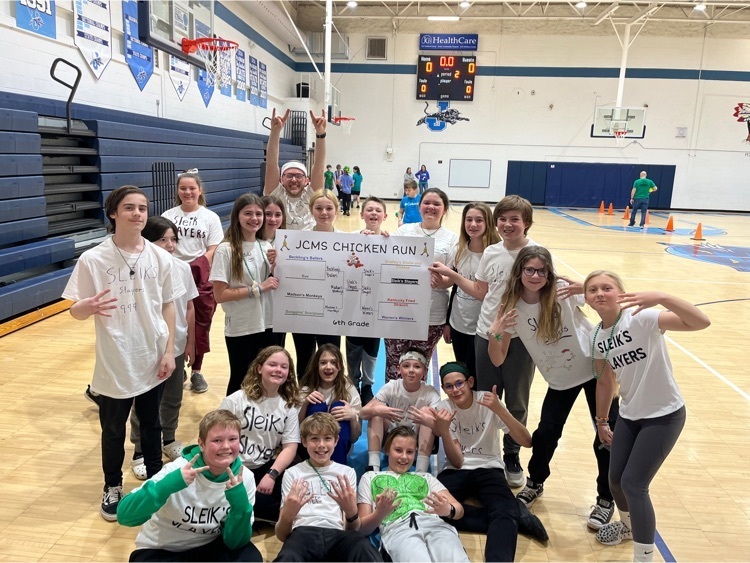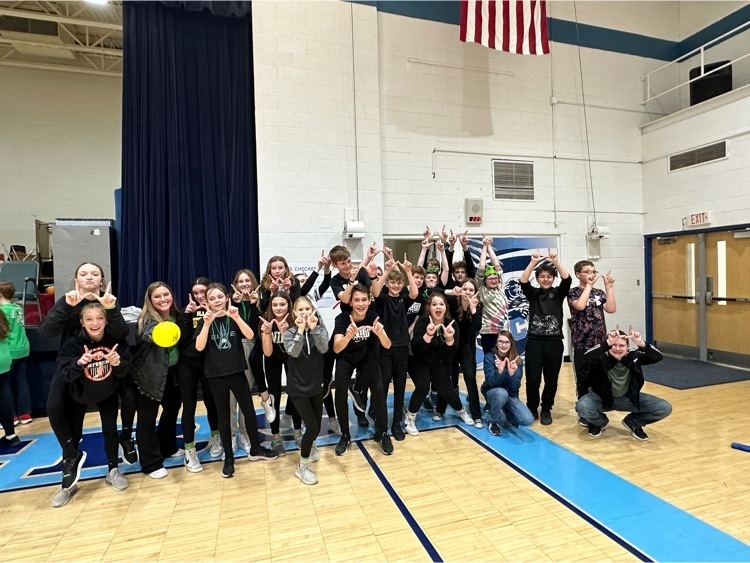 Check out these incredible aerial photos of the newly installed turf field at JCHS. What a view!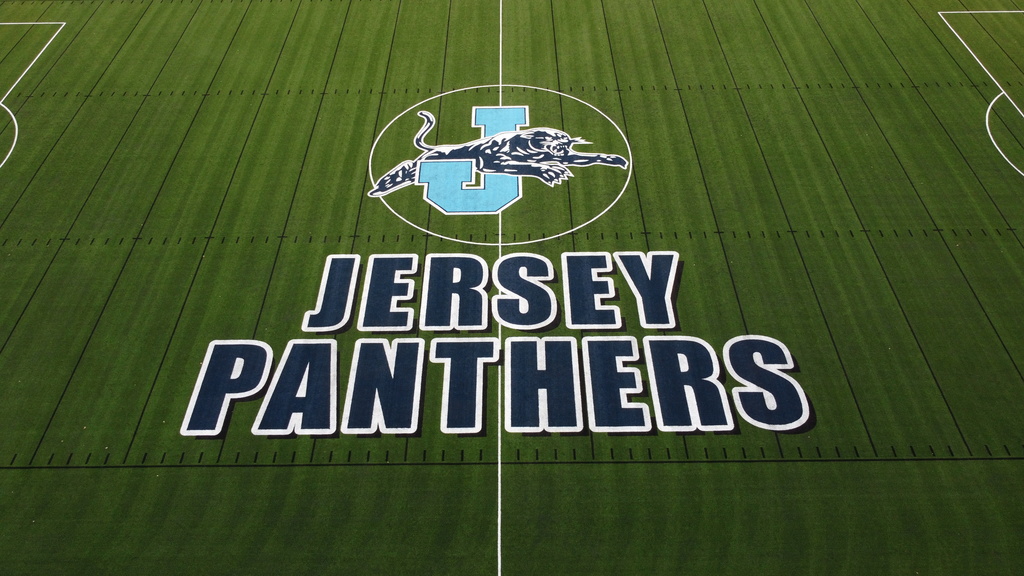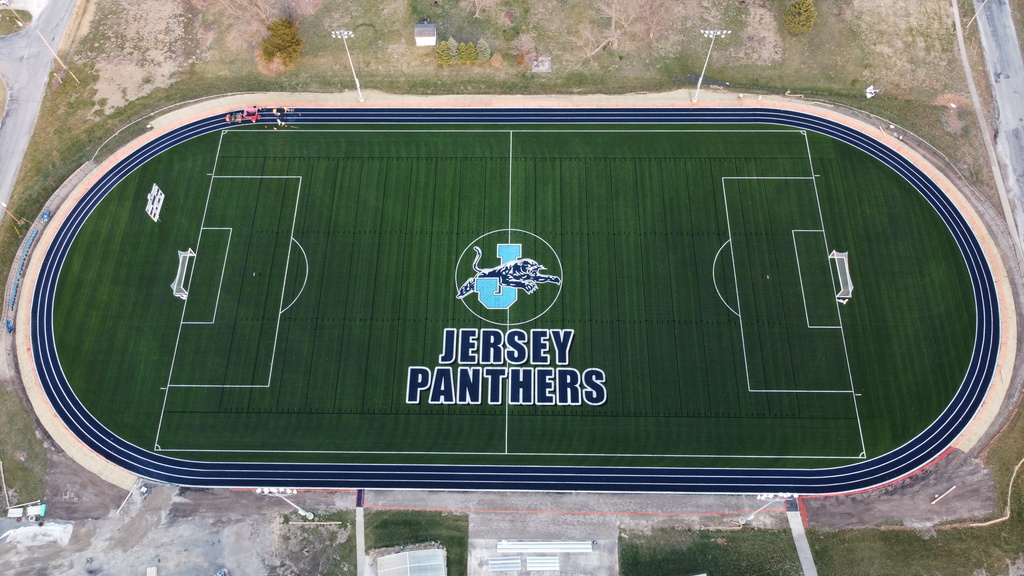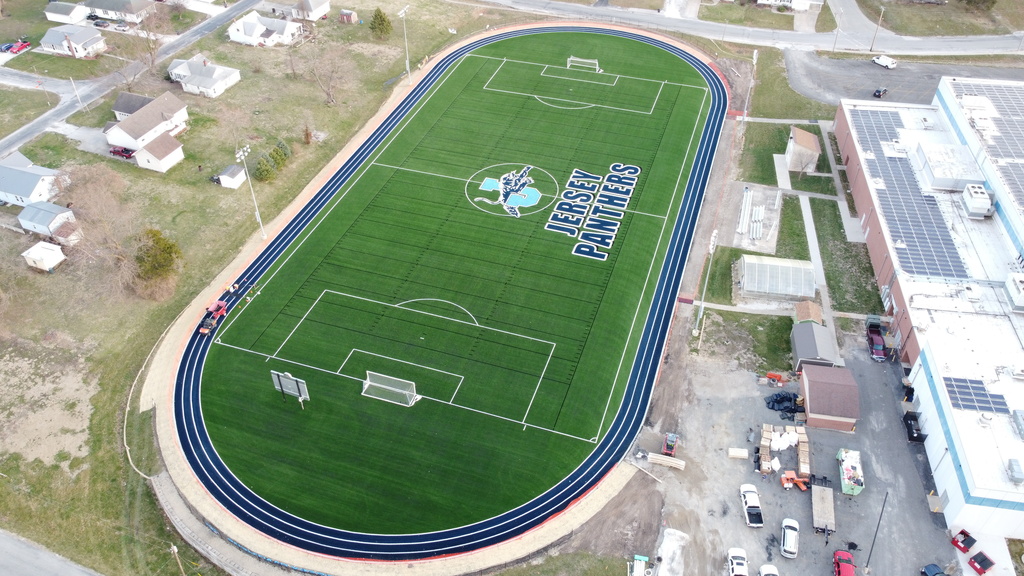 West Elementary students had a fabulous St. Patrick's Day!!! Students searched for the leprechaun, wrote about how to catch a leprechaun, and played math games using Lucky Charms. A great day was had by all!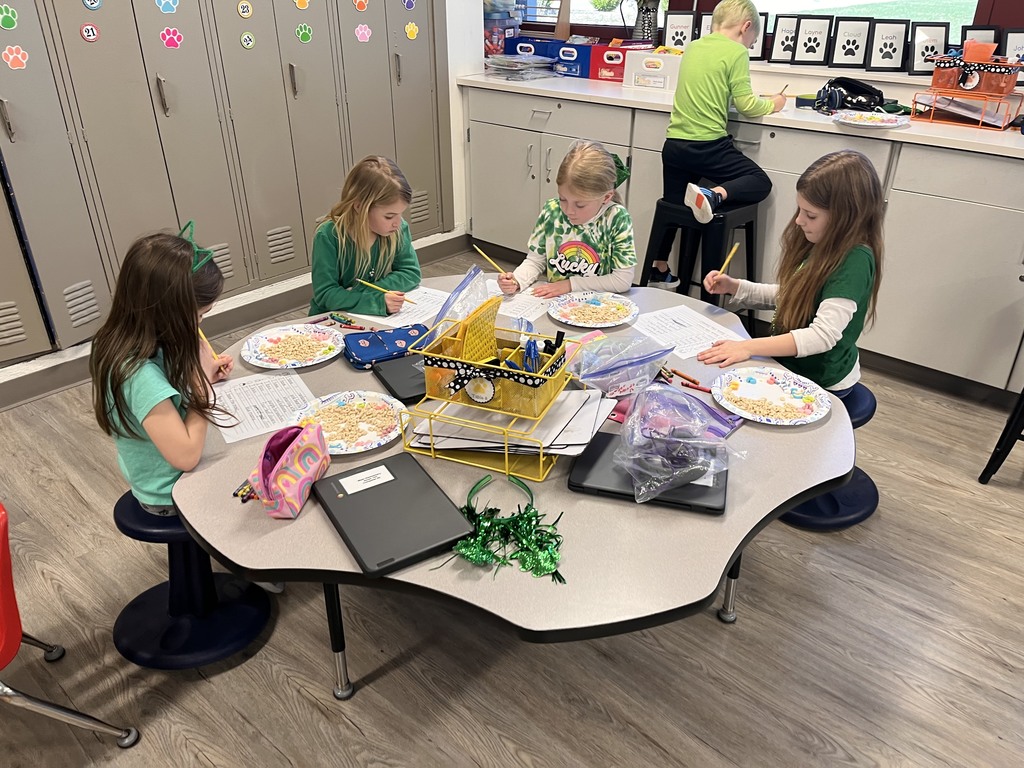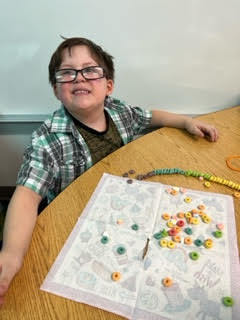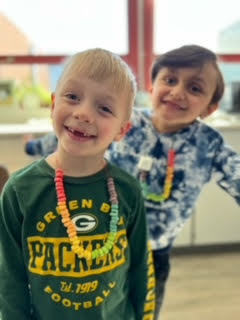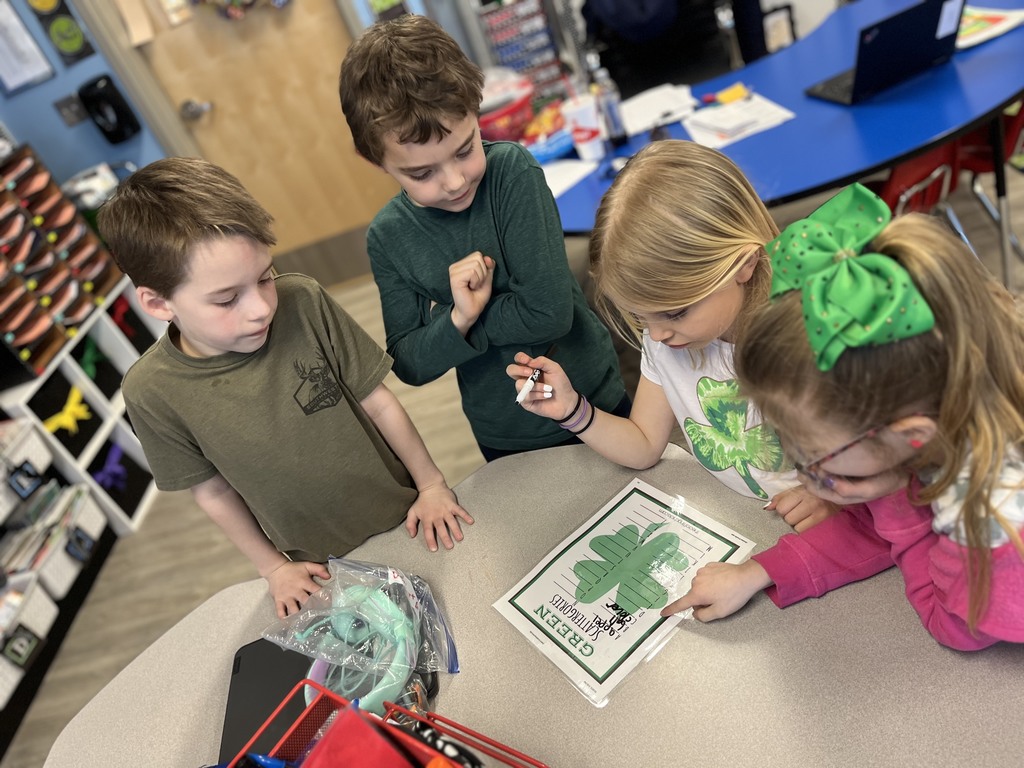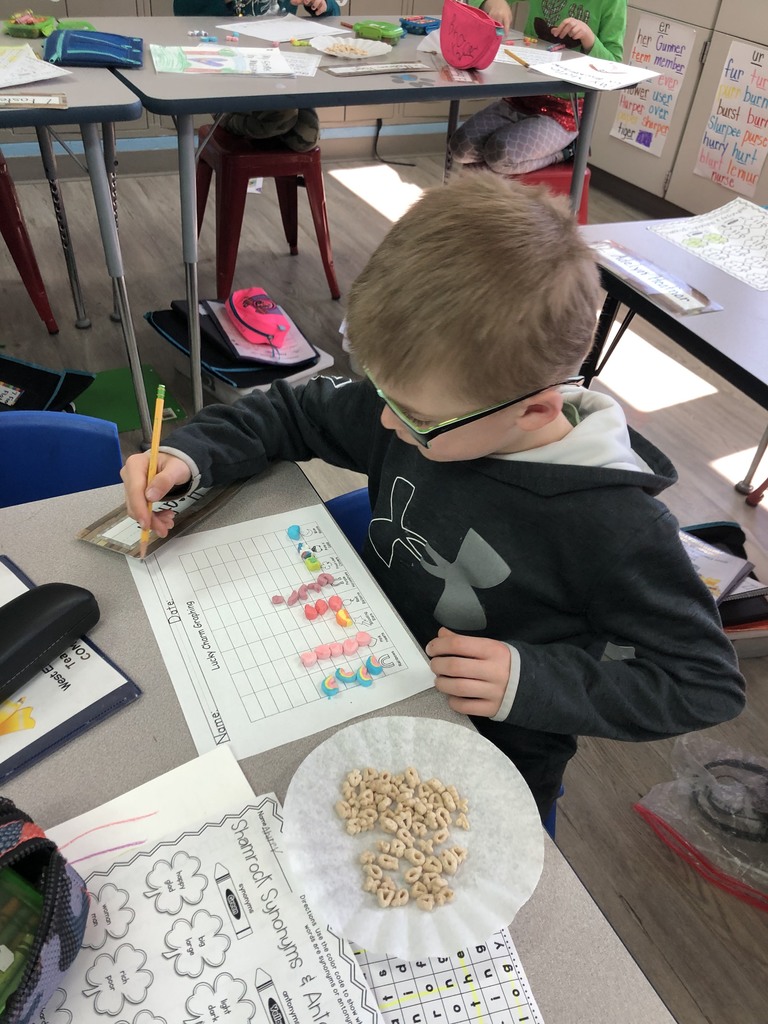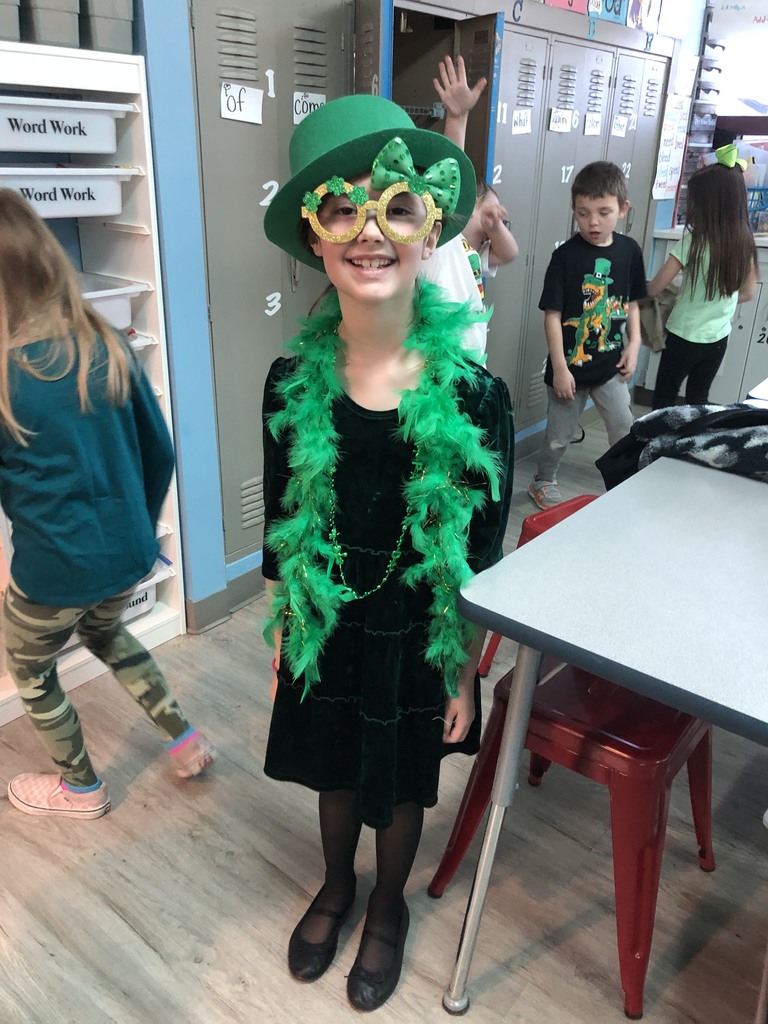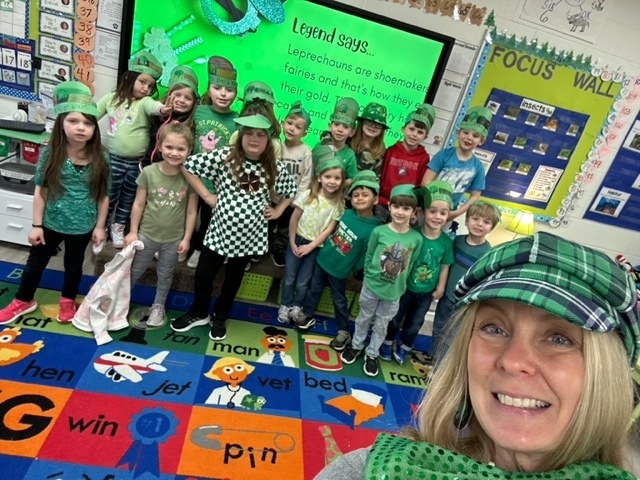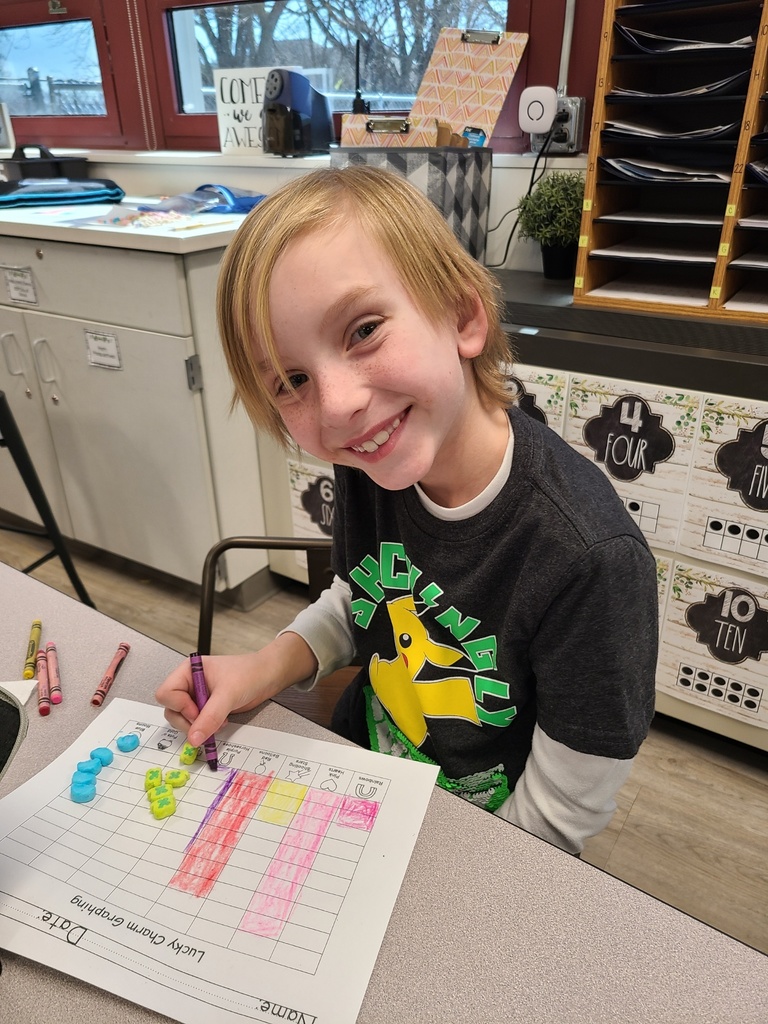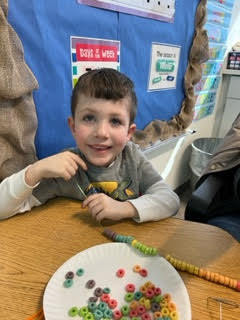 Representatives from Aeries Resort in Grafton presented seasonal job opportunities to JCHS students during Panther Time and in our lobby during lunch. If your place of business hires students for employment, we are happy to help connect you to our students who are job searching! Email
erica.heitzig@jersey100.org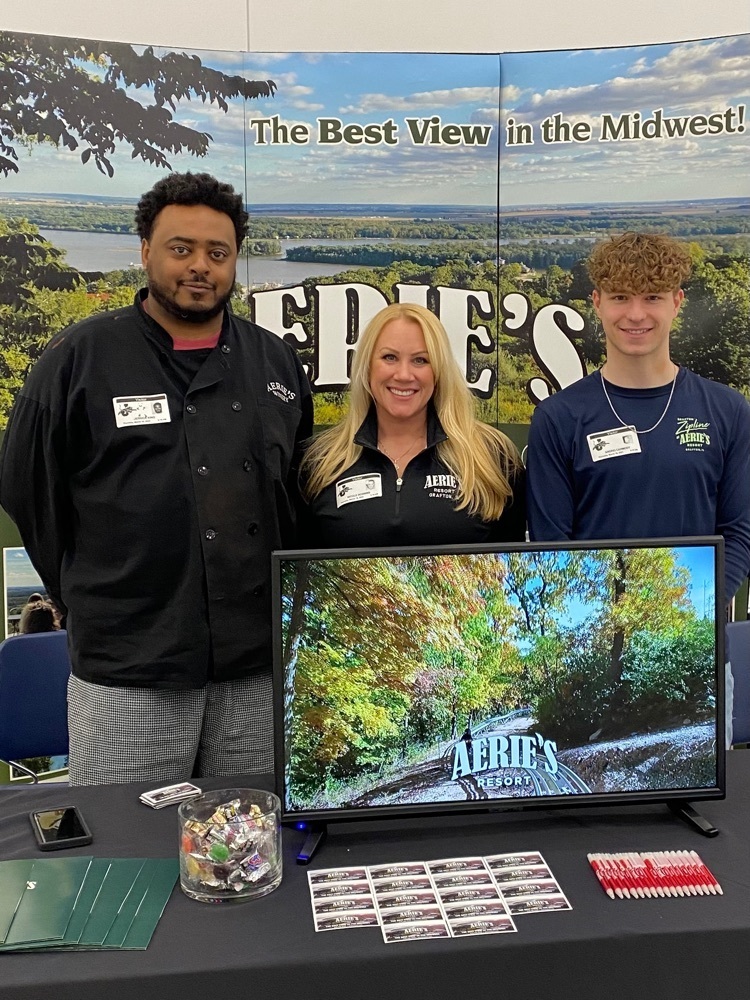 Jersey 100 would like to congratulate ALL staff members who received a shout-out from their peers! March winners are: Dawn Dwyer(JCHS), Waylon Schroeder (JCMS), Jessica Kimble(East), Maggie Bick(West), Traci Garrett (Grafton), Kevin Woolsey(Maintenance), Lisa Schenke(Unit Office)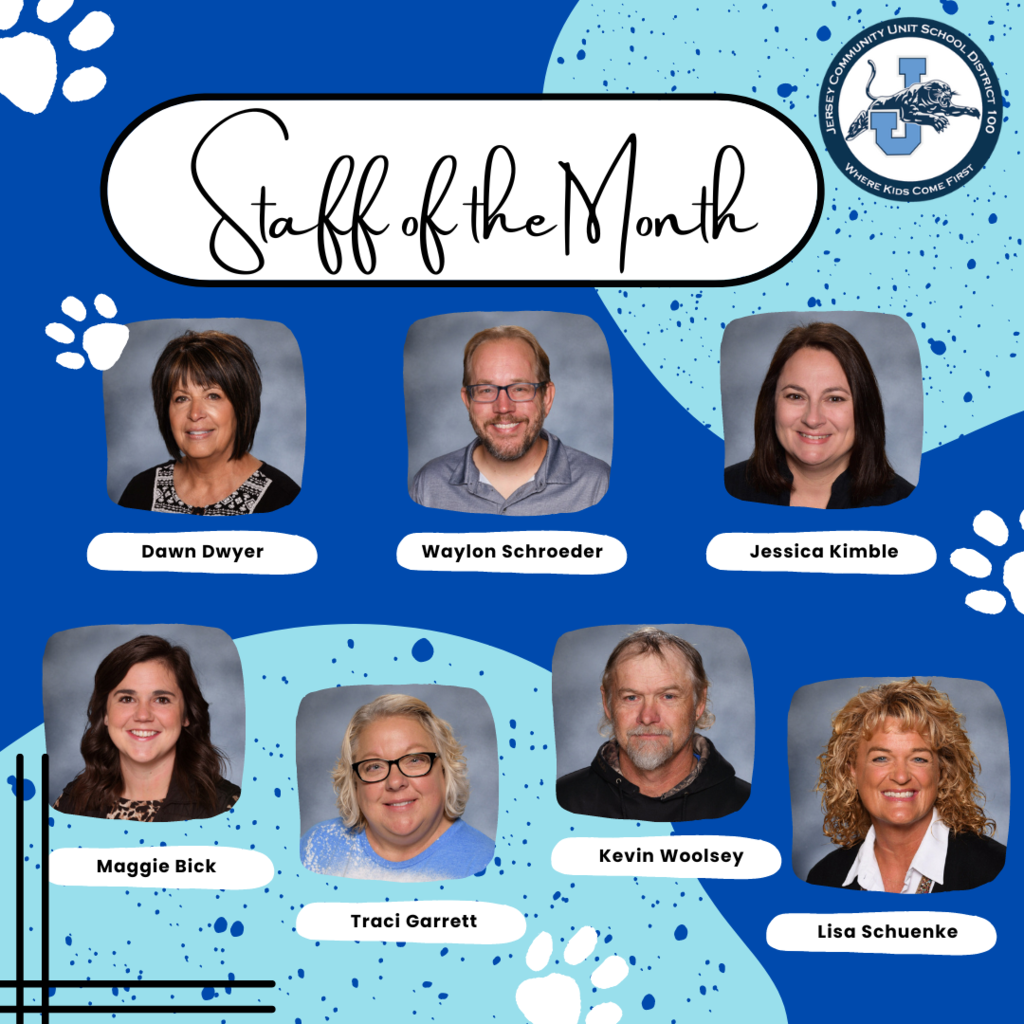 JCMS families: we are excited to welcome you to our carnival themed Family Reading Night on Tuesday, March 21st from 5-7. We've got lots of fun planned for the whole family, so feel free to bring siblings. We'll have food, PRIZES, games, the book fair, community activities, an obstacle course and so much more.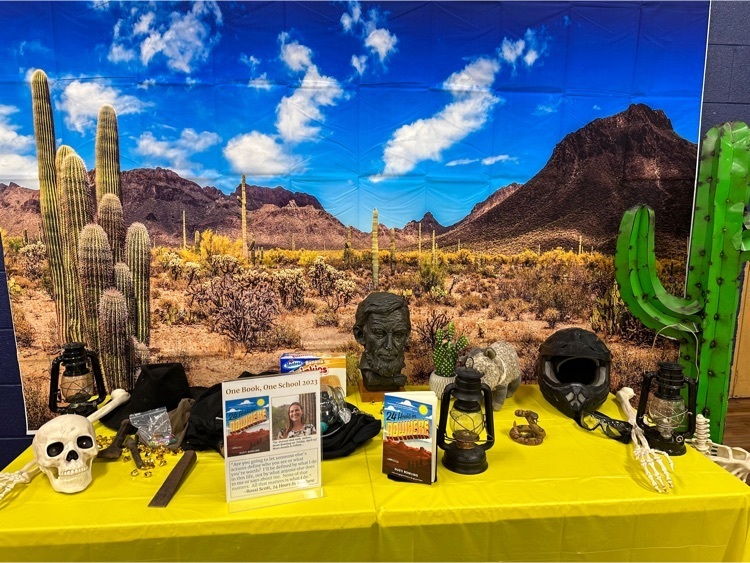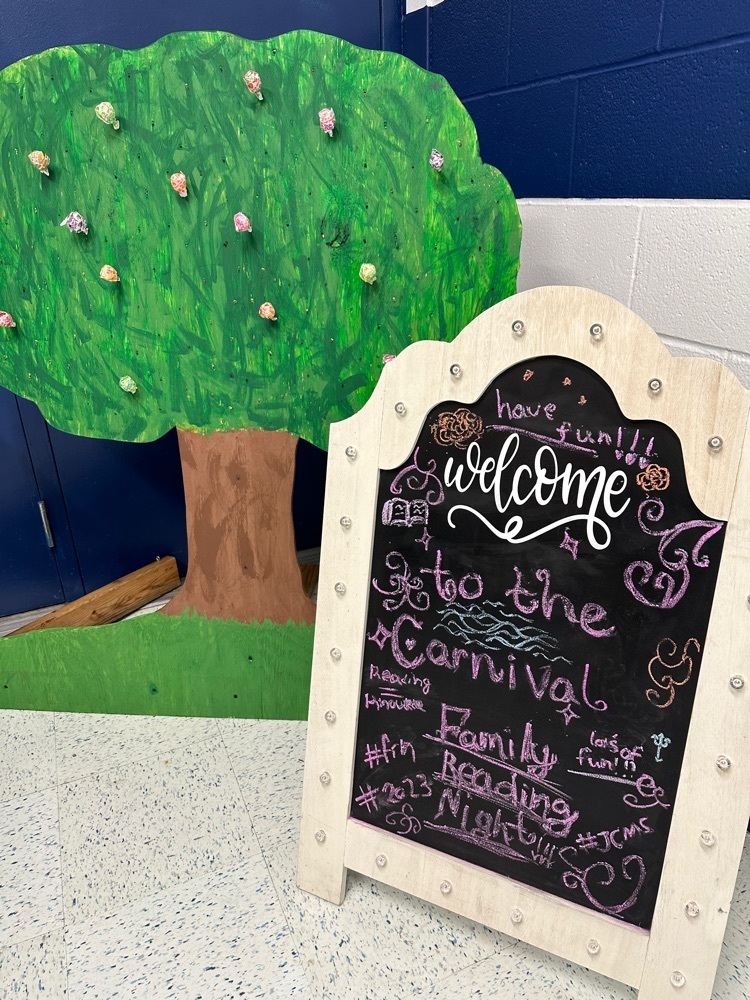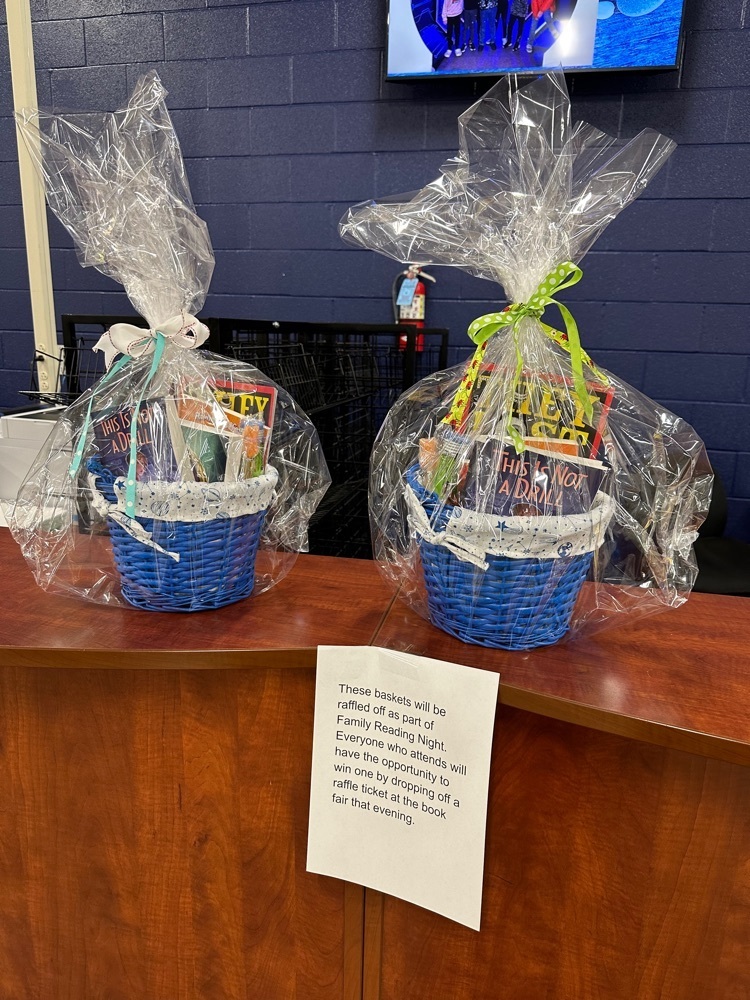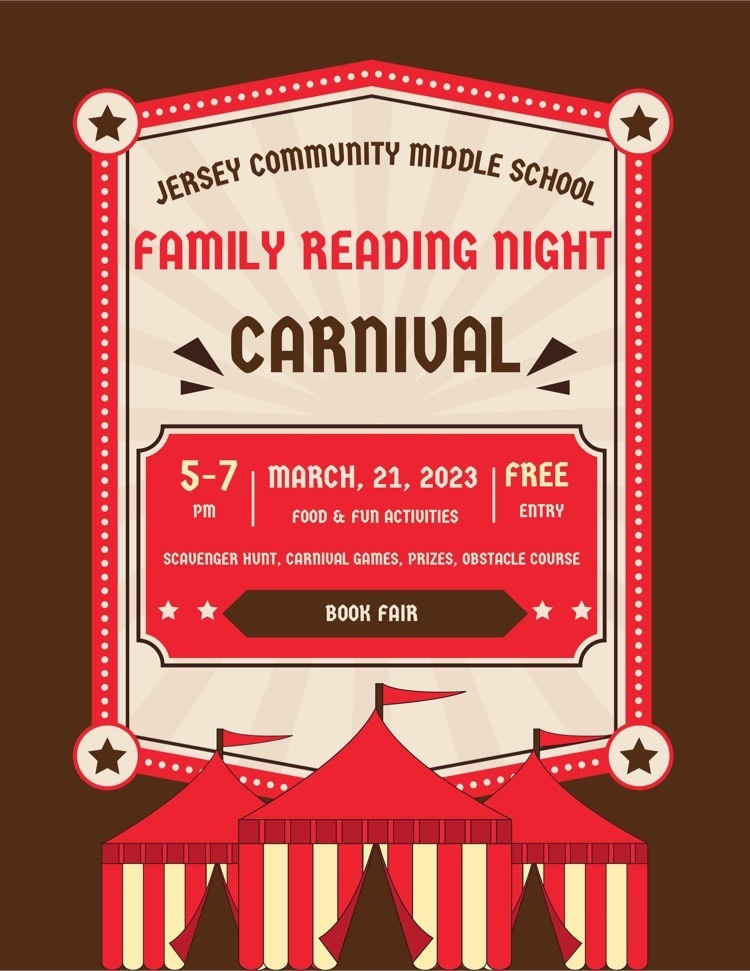 Thanks to our adobe Interns Emily Davis, Katie Deist, and Kaelyn Drainer. They have been responsible for the banners displayed in the main lobby all year. They print, grommet, hang, and then check and replace them as needed throughout the year. Thanks to the coaches and sponsors for submitting the accomplishments so we can display them. They are a great addition to the lobby and are the focus of many pictures throughout the year.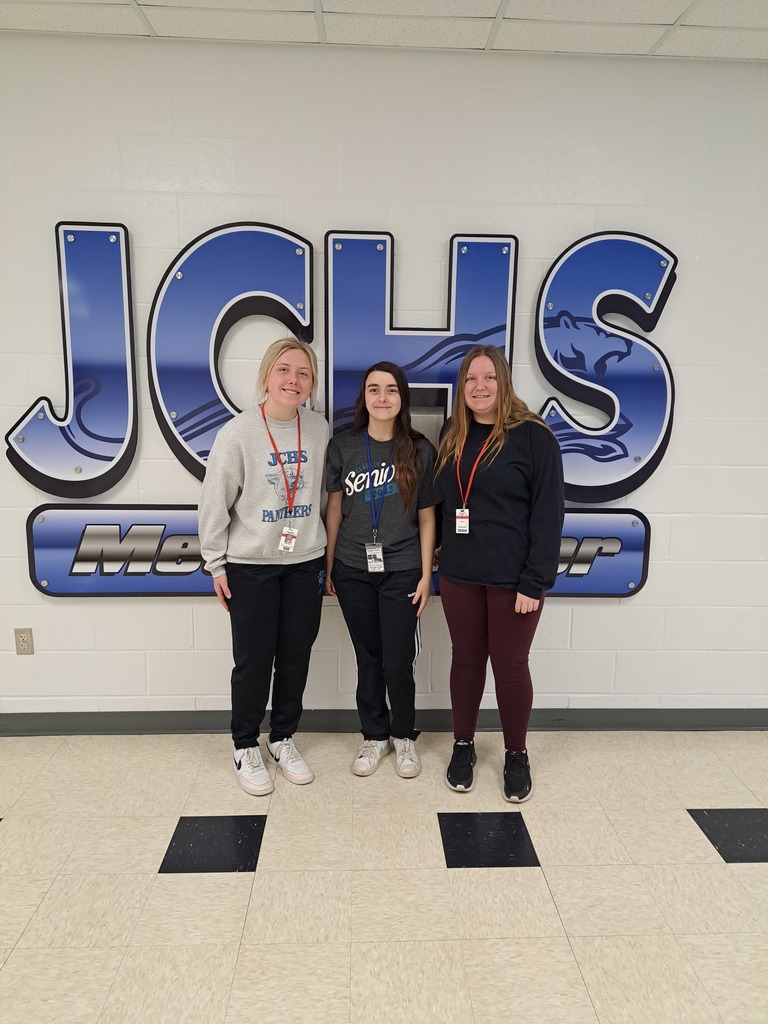 Mid-America Carpenters Regional Council representatives presented to JCHS Welding and Construction Classes regarding their promising Apprenticeship & Training Program. These union representatives expressed that they wanted to visit and recruit here specifically because our students have the reputation as hard workers. 👏 If your business or organization would like to present to JCHS students regarding employment opportunities during or after high school, email
erica.heitzig@jersey100.org

JCHS Class of 2014 Graduate and University of Oklahoma PHD student, Josh Chappell, spoke to Mr. Morgan's JCHS Business classes on Industrial-Organizational Psychology, Business Psychology, and his college and career readiness journey.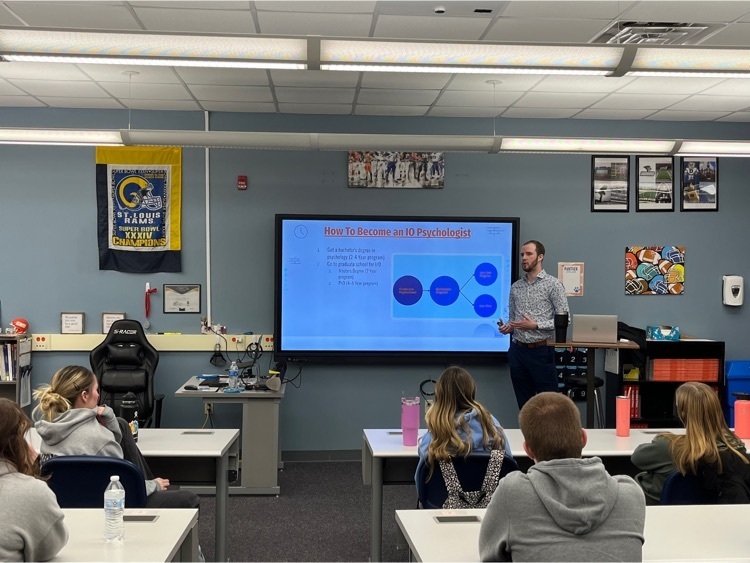 Buy your tickets to the The JCHS Theater performance of, "You're a Good Man, Charlie Brown". The following are the show dates/times: Thursday the 16th: 7:00 pm Friday the 17th: 7:00 pm Saturday the 18th: 7:00 pm Sunday the 19th: 2:00 pm To purchase tickets, please call Diane Rogers at (618) 498-5521, ext. 71115.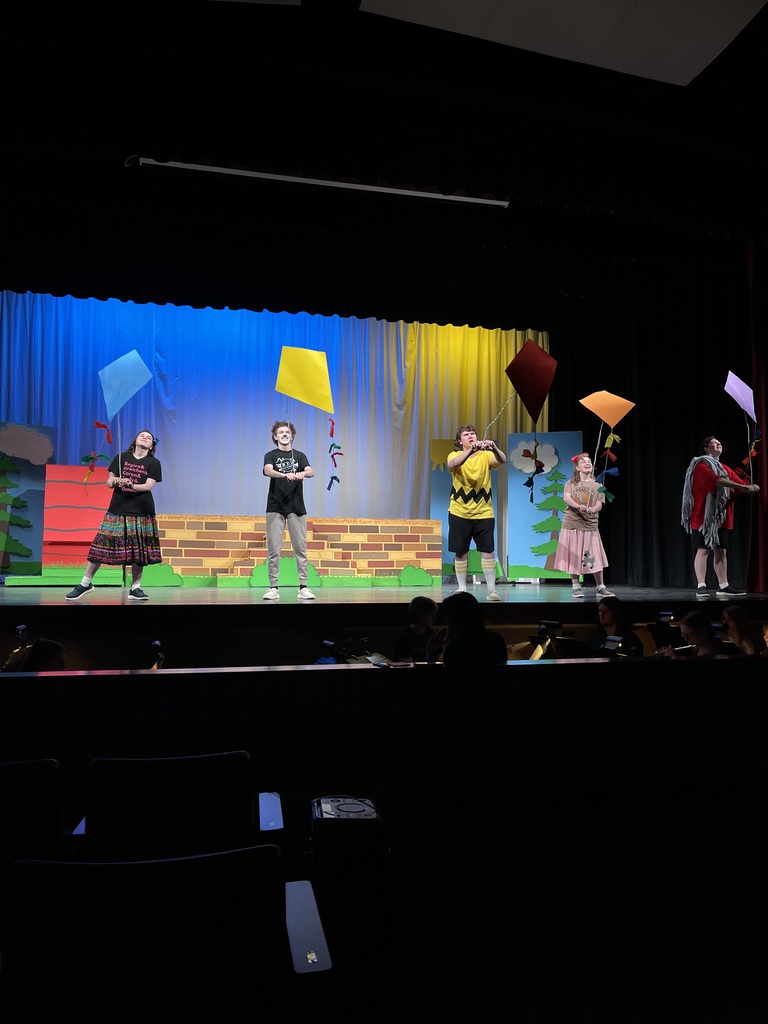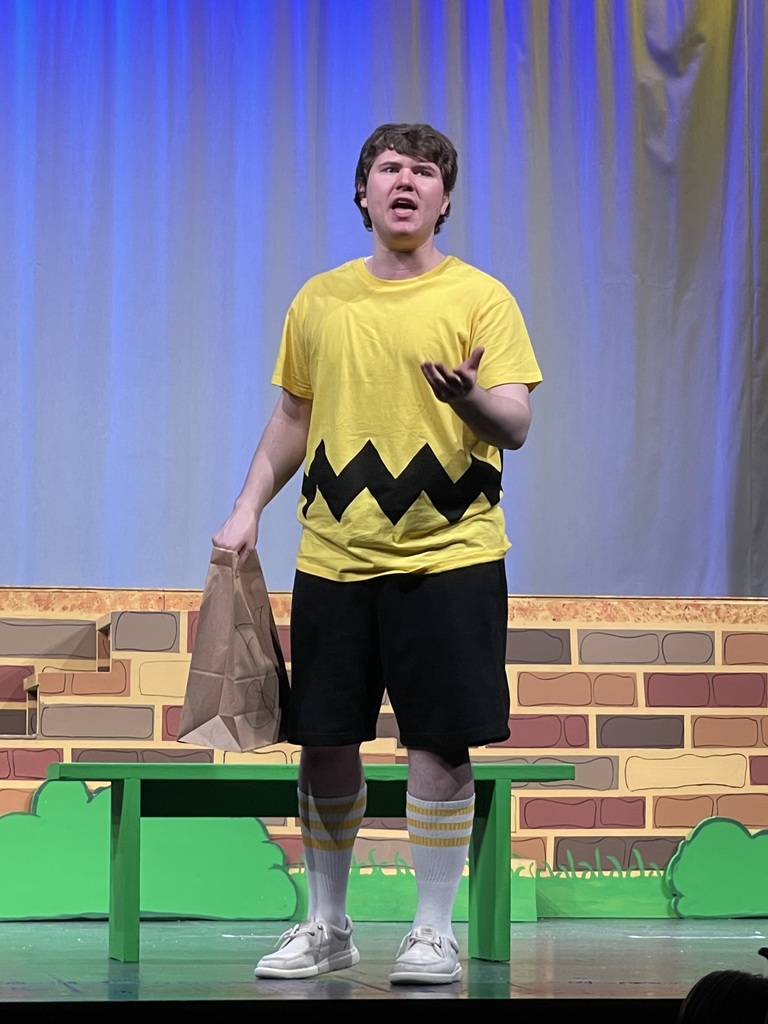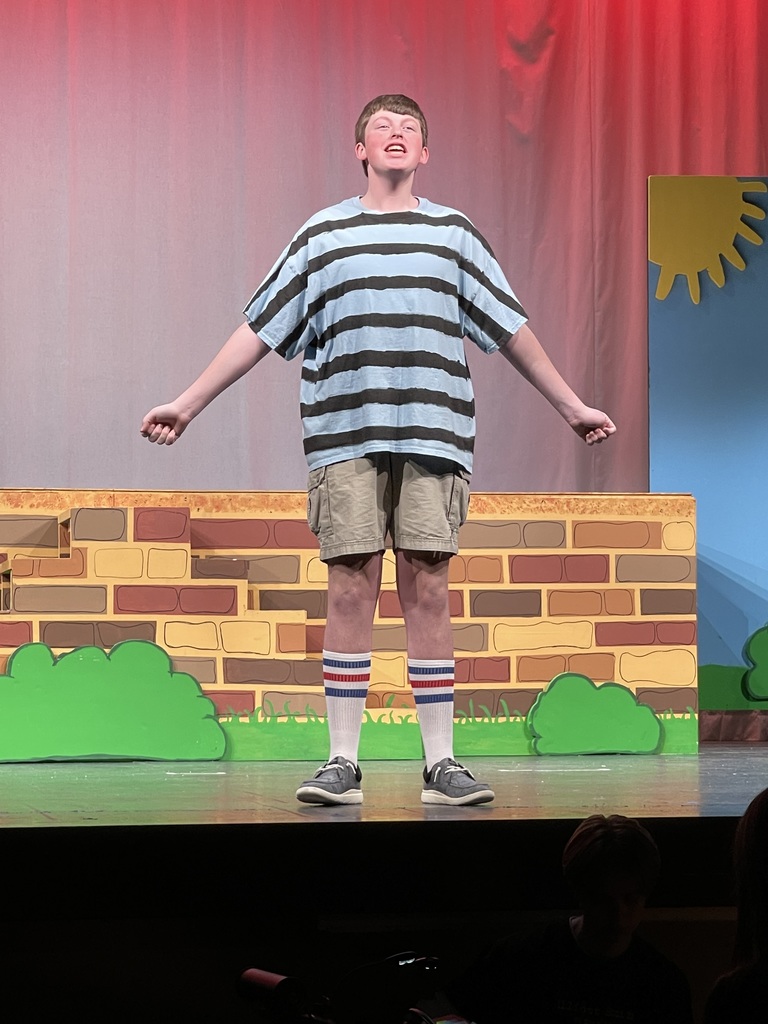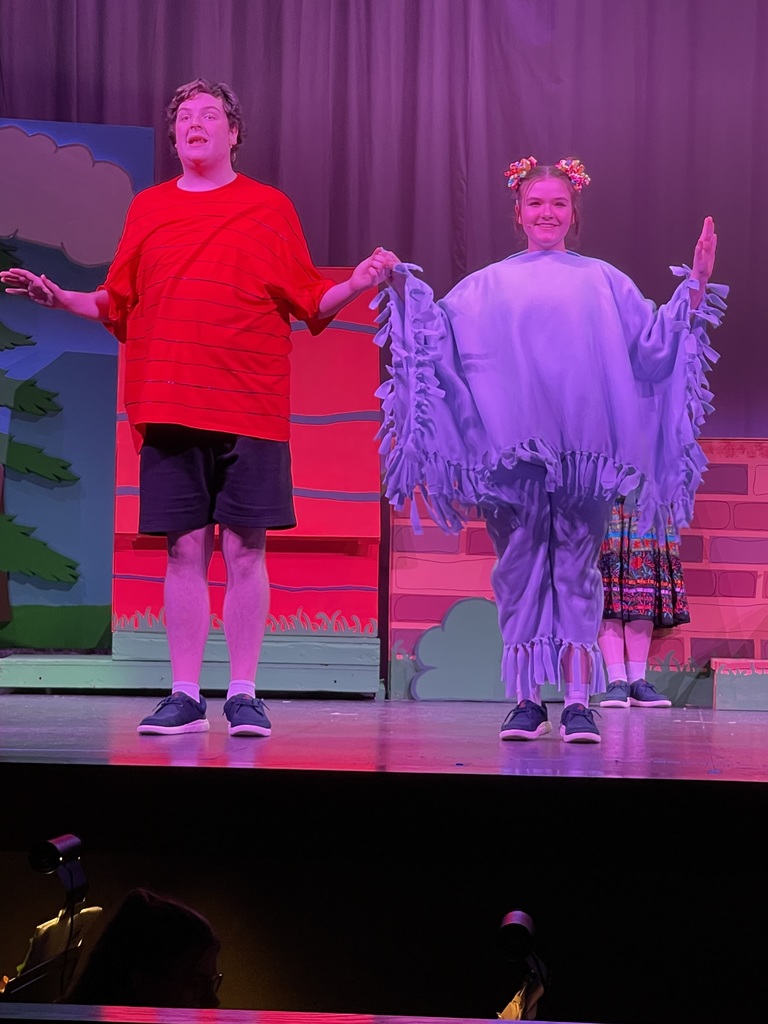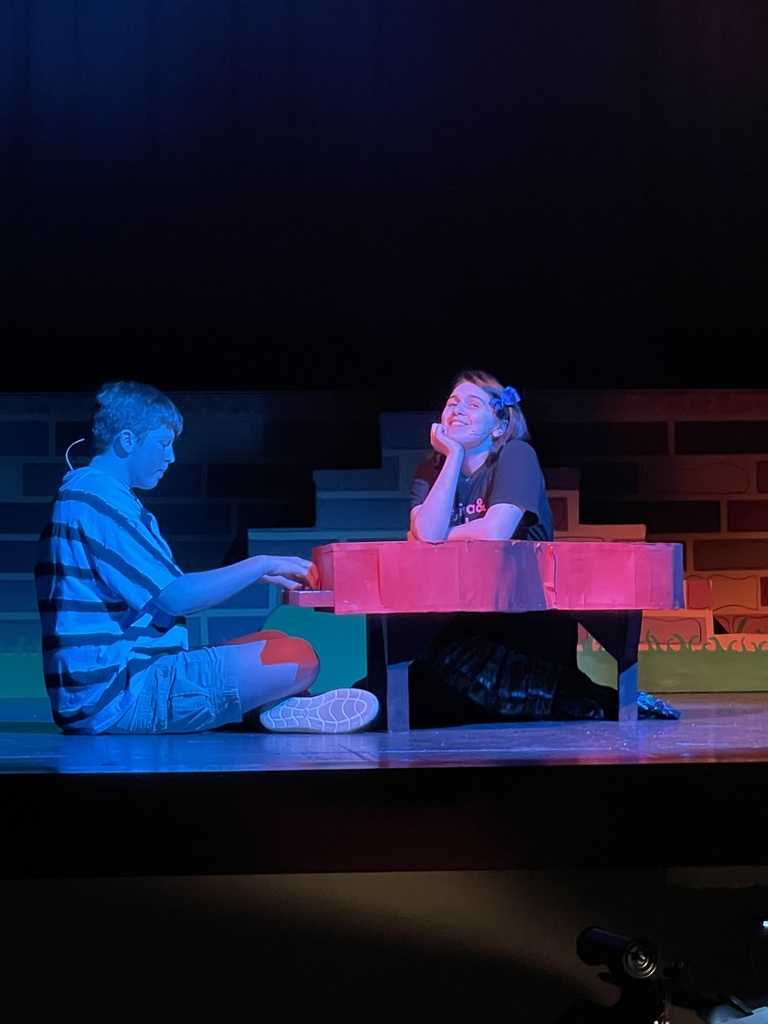 JCMS - One Book, One School Have you heard the good news? JCMS is continuing our amazing One Book, One School program this year! Every JCMS student and staff member has received their own copy of... 24 Hours in Nowhere by Dusti Bowling. All students and staff will read this selection over the next month, culminating in an in-person visit by author Dusti Bowling on April 14th! Read Like a Panther!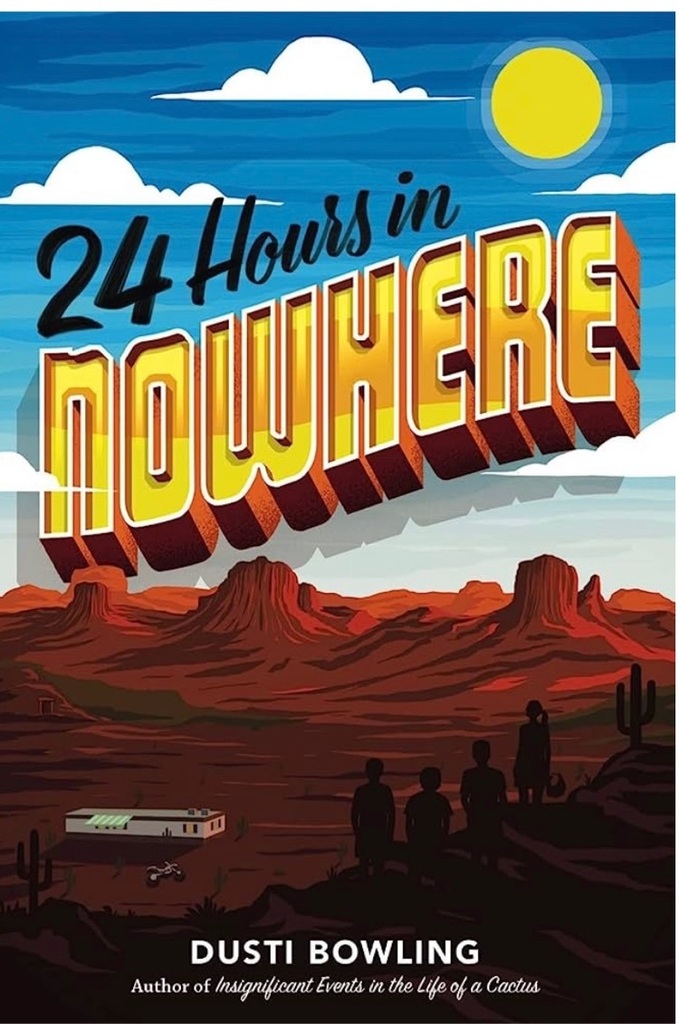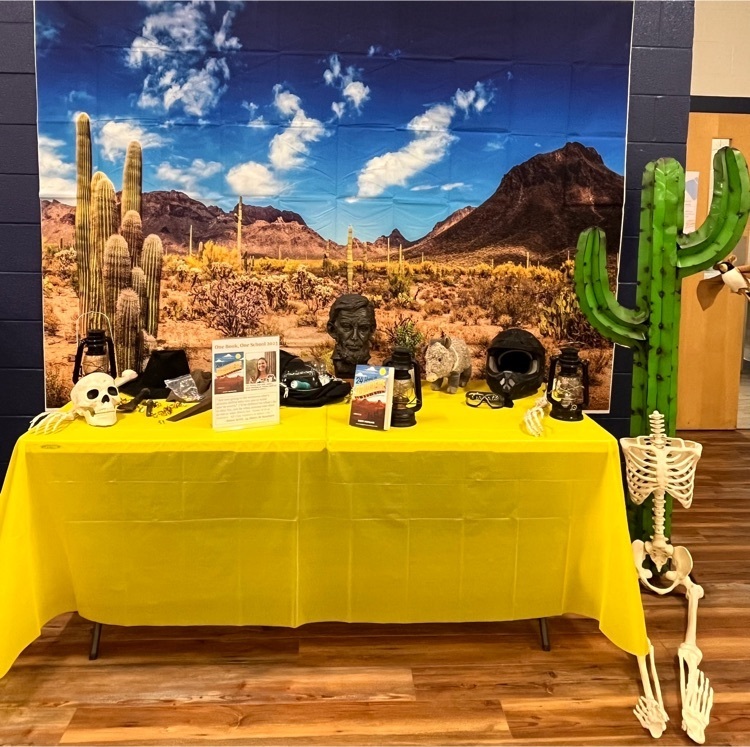 Friendly reminder to current Sophomores or Juniors who may be interested in Jersey County CEO Program! Hope to see you at Germania for this informational session!☕️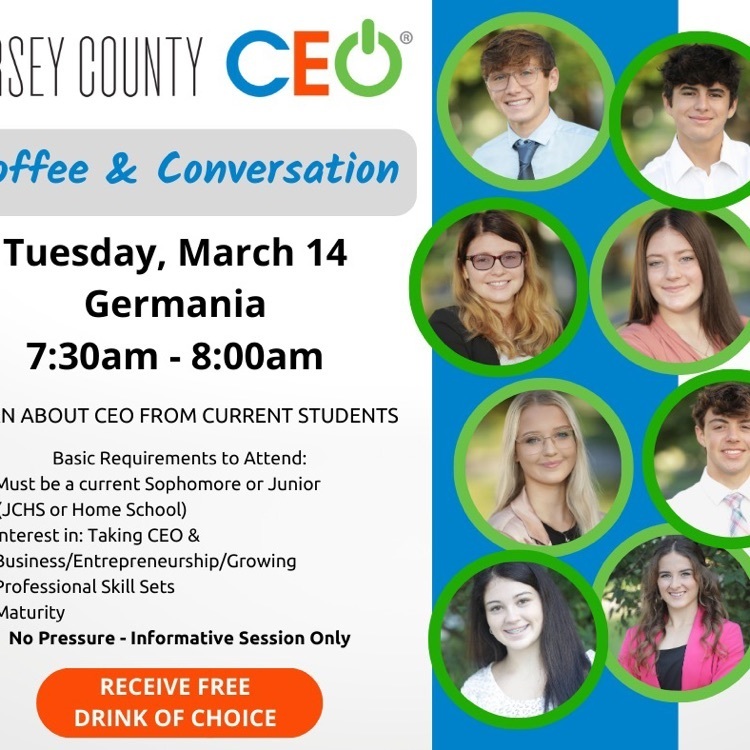 The JCHS Boys and Girls Track teams hosted the Winter Thaw at Principia College on Saturday, the 11th. Here are the top results for Jersey: Lexi Trexler (8th in High Jump) Annabelle Yamnitz (7th in Long Jump) Delaney Deist (4th in Pole Vault) 4x200 placed 2nd in 1:36.3. Current the 10th fastest 2A time in the state. Team was Casey Borkowski, Isaac Loges. Aiden Talley and Landon Jones. Casey Borkowski placed 7th in the in the 60m and 3rd in the 200m. Freshman Logan Wade placed 8th in the 3200. Landon Jones placed 3rd in the long jump Brendan Schultz 7th in the pole vault. Congratulations to both teams and the individuals with top 8 finishes.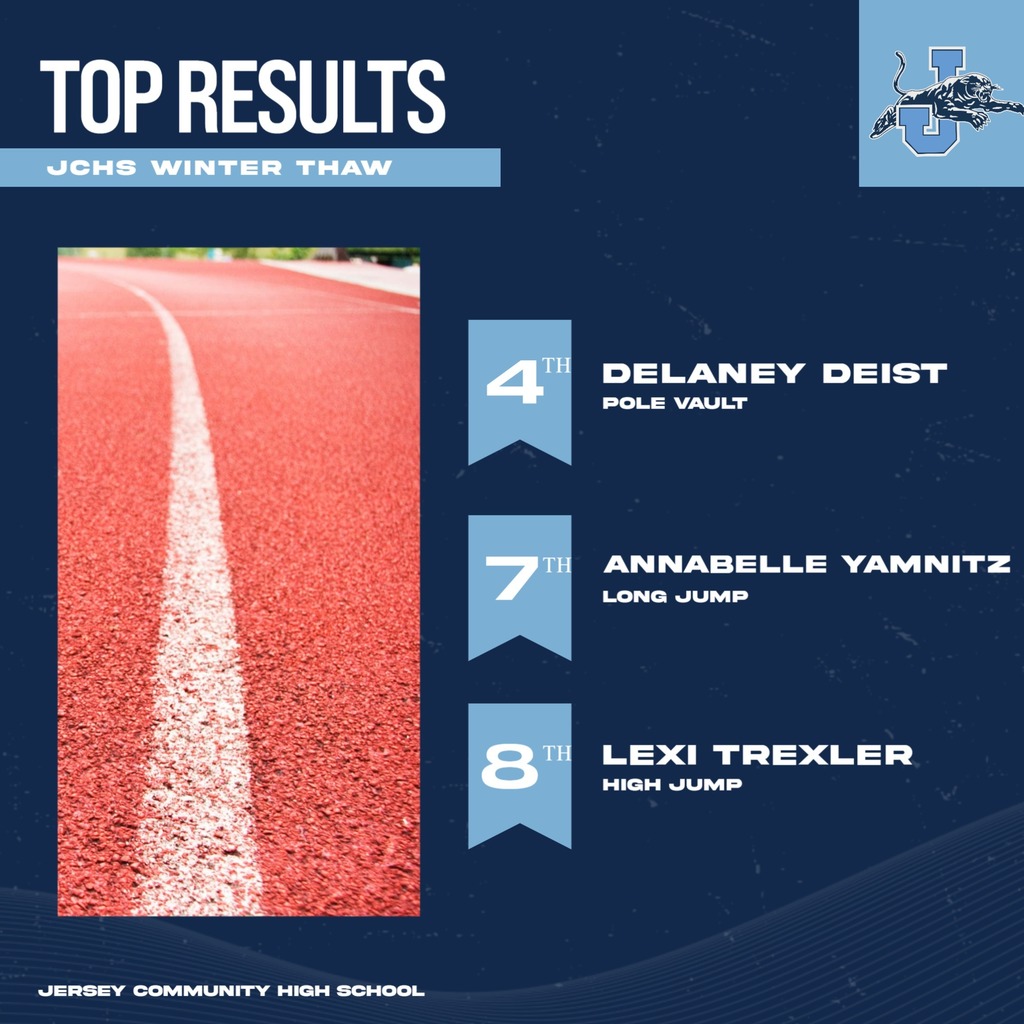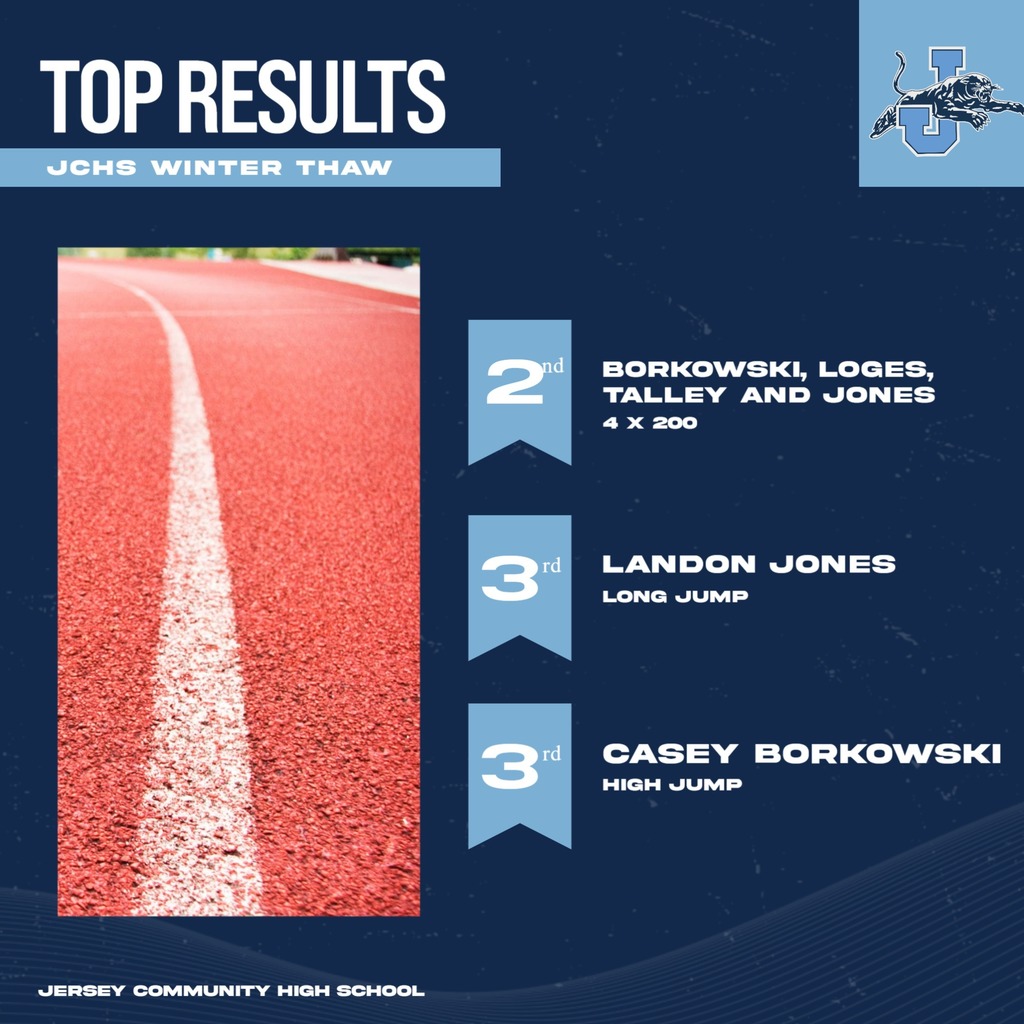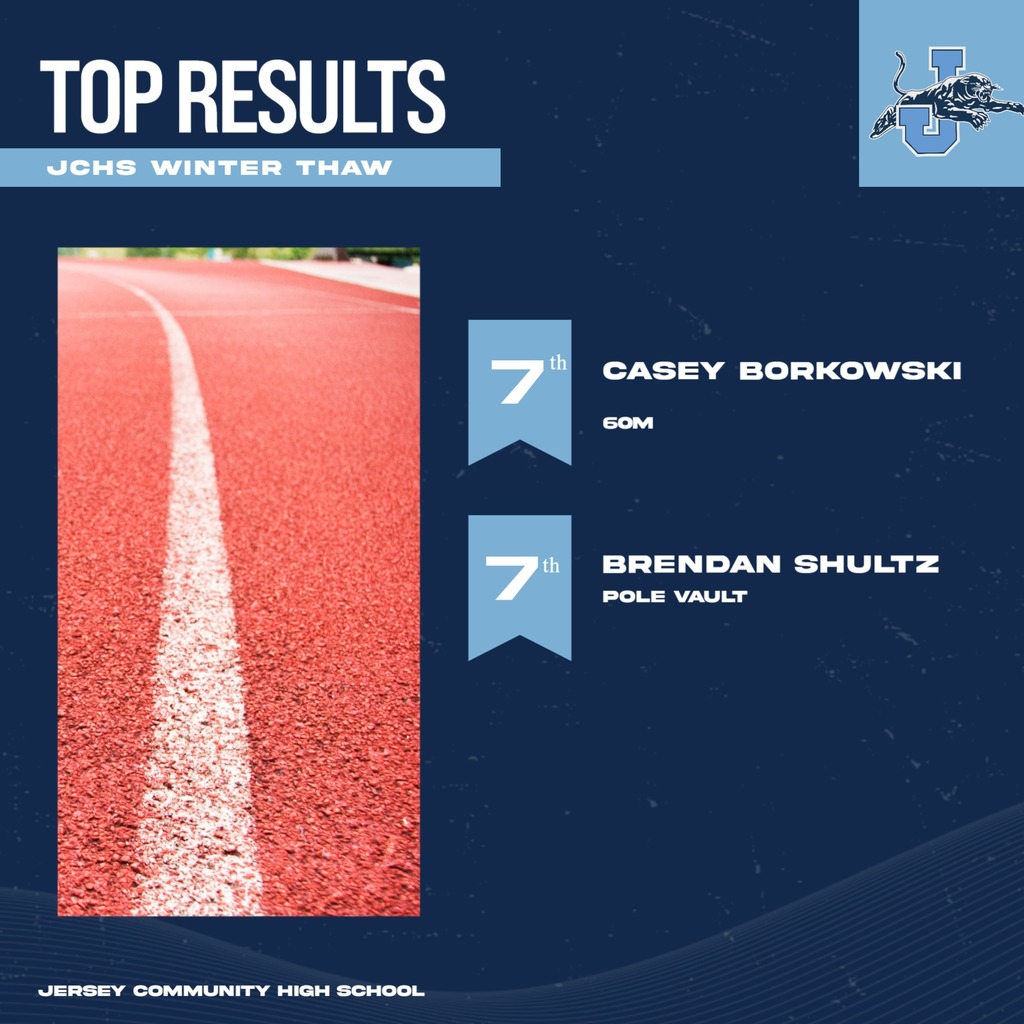 Bodey Waltz traveled to NIU this weekend to represent Jersey Panther Nation on the big stage! He fell to 2 time state champion Cooper Morris of Coal City in his first match before meeting Easton Spooner of Fulton in a barnburner that Waltz led until a reversal in the final seconds of the match. Jersey 100 is proud of you Bodey - Jersey Panther Wrestling is on the Rise!!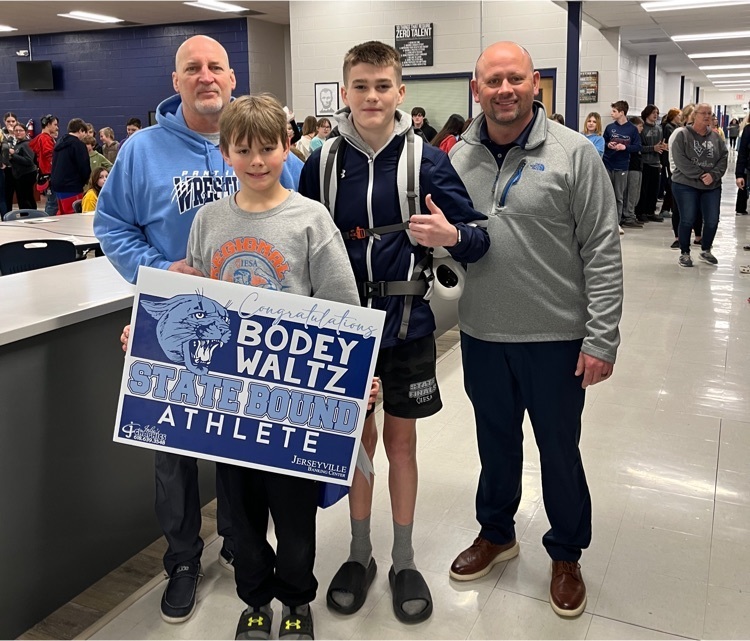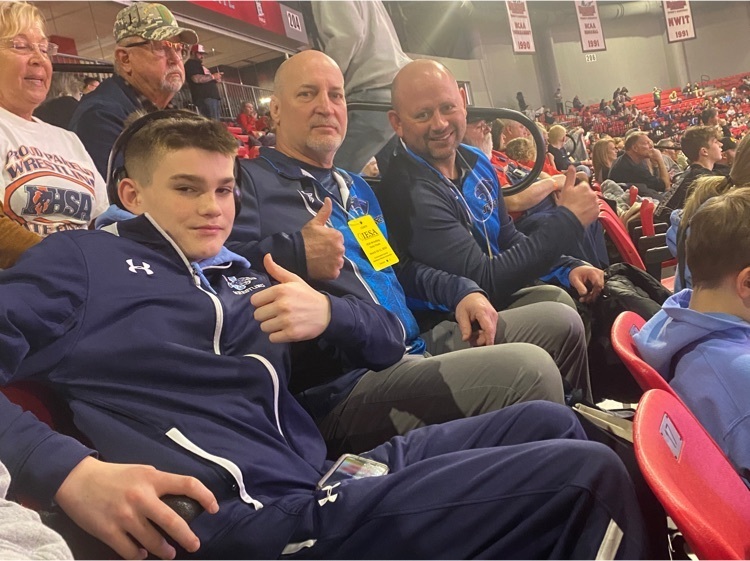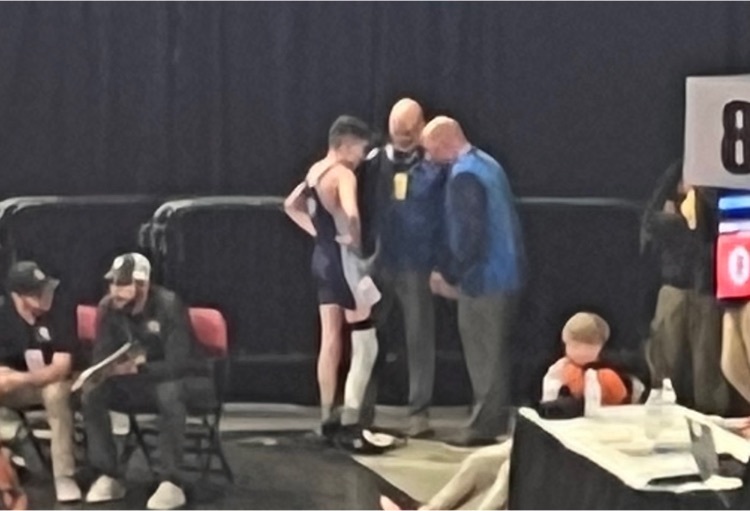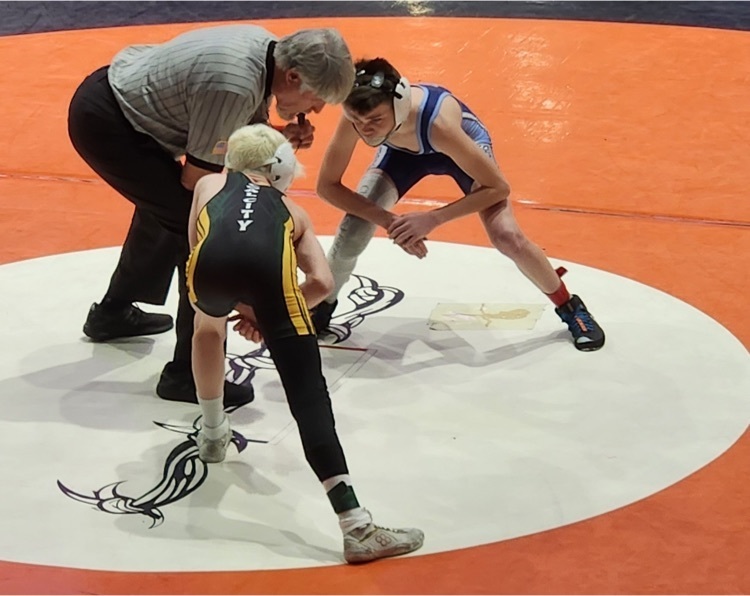 The EIU Jazz Ensemble, under the direction of Sam Fagaly, along with EIU faculty Paul Johnston, stopped by to perform and talk to band students this morning at JCHS. A huge thanks to EIU for coming by, and a shout out to JCHS band alumni Kirsten Hetzel who is currently a member of this amazing ensemble!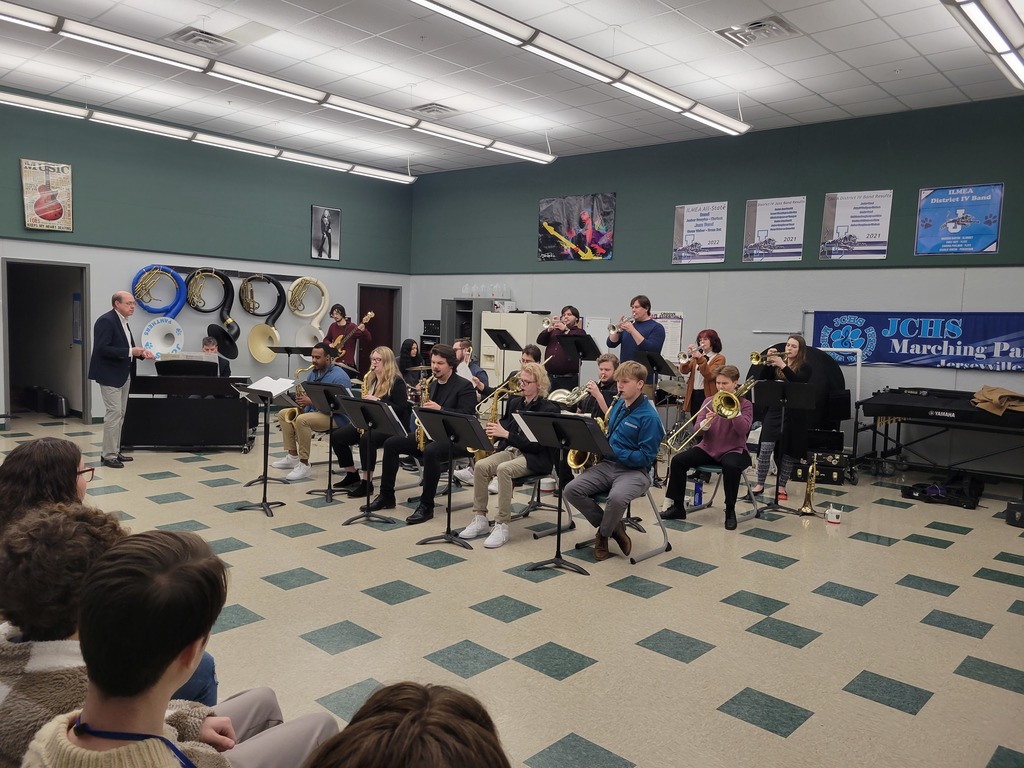 JCHS Boys Bowling takes home two prestigious awards at the Southern Illinois High School Bowling Conference Banquet. Jacob Elliot was voted the "Boys Bowler of the Year" and Coach Steve Nelson was voted the "Boys Coach of the Year"! Congratulations! Jersey 100 is proud of you!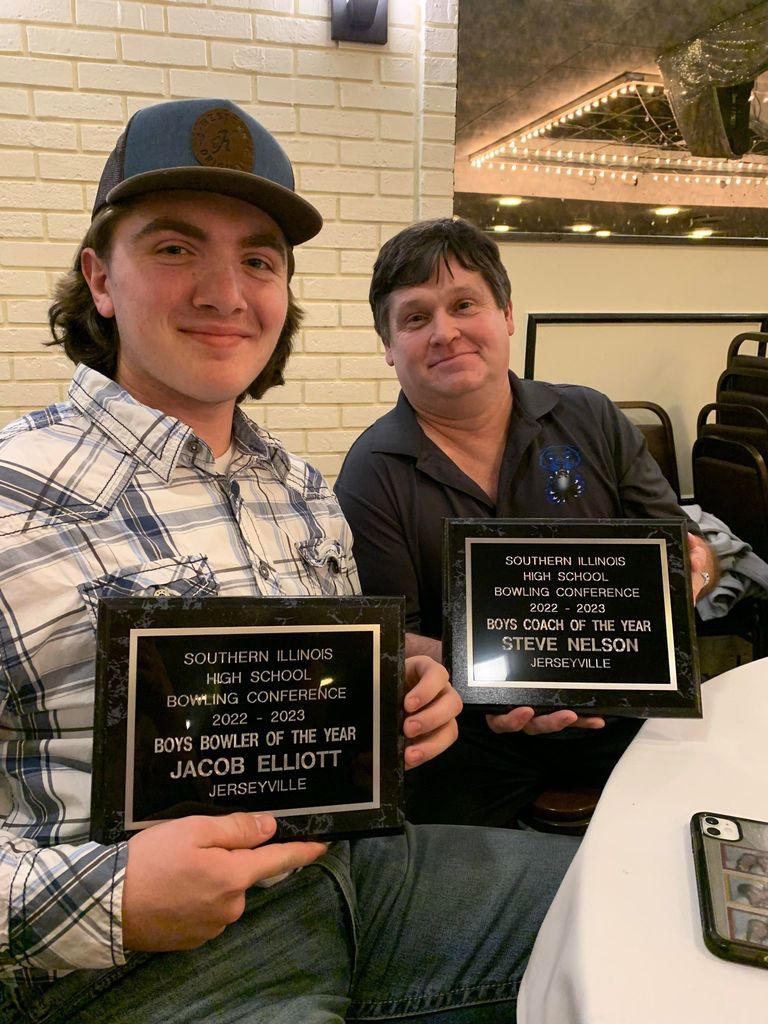 Congratulations to the 25-1 Edwardsville Lincoln Wildcats in the 8th Grade 4a Regional hosted by JCMS.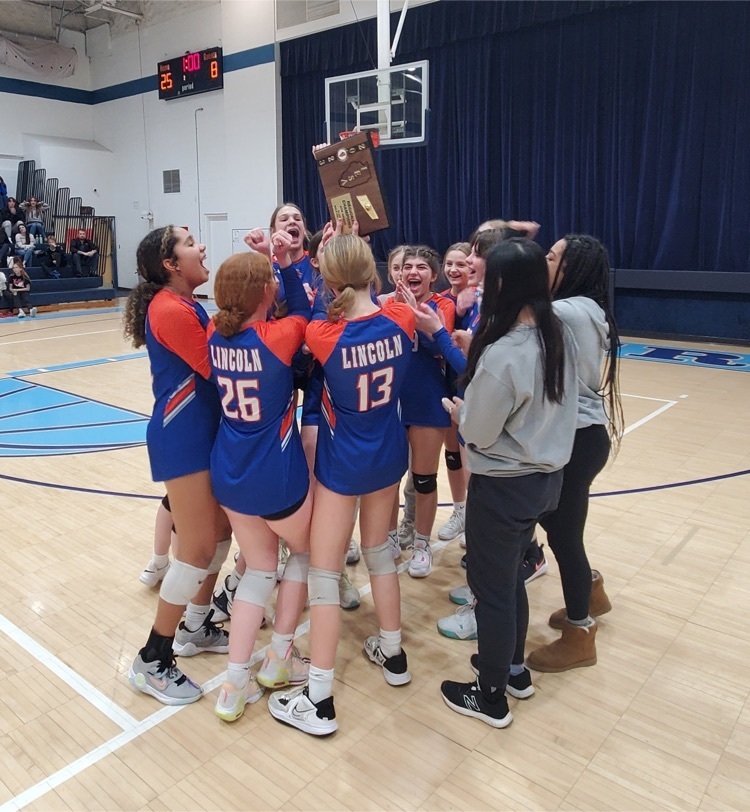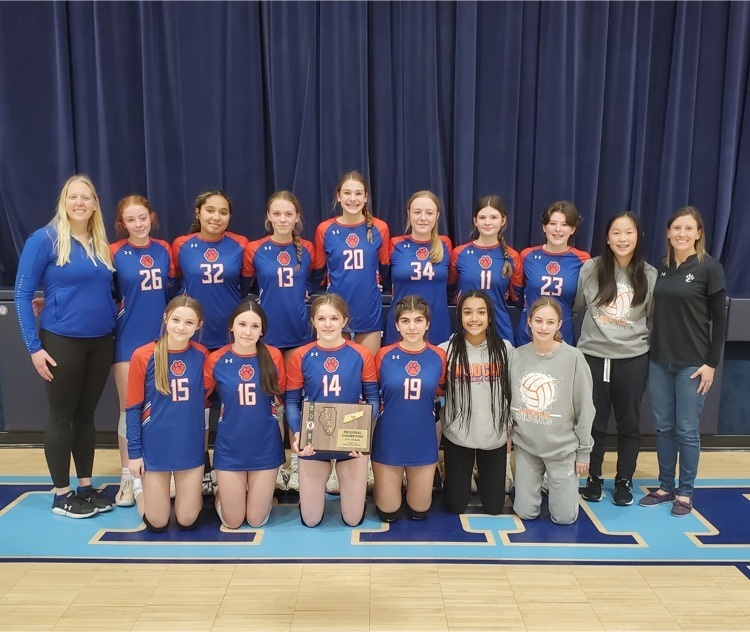 JCMS sent Bodey Waltz off to state in style! Bodey will wrestle in the IESA State Tournament at NIU this weekend with hopes of becoming an all-state medalist. Good luck Bodey!!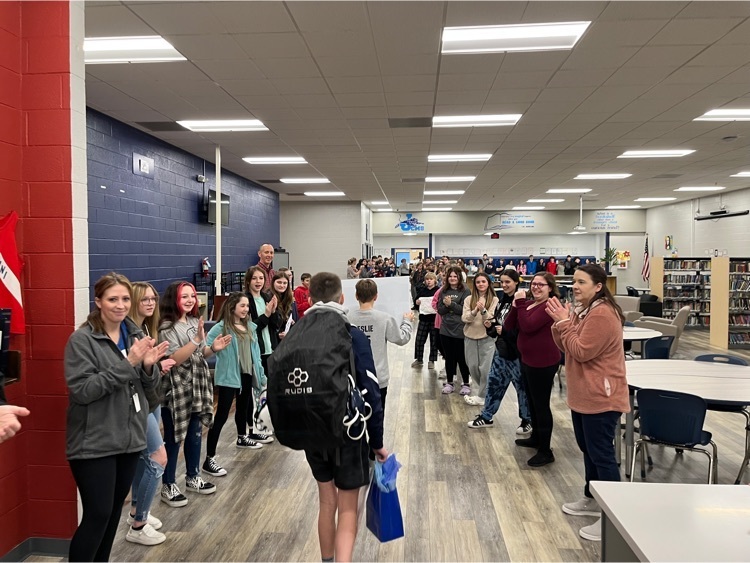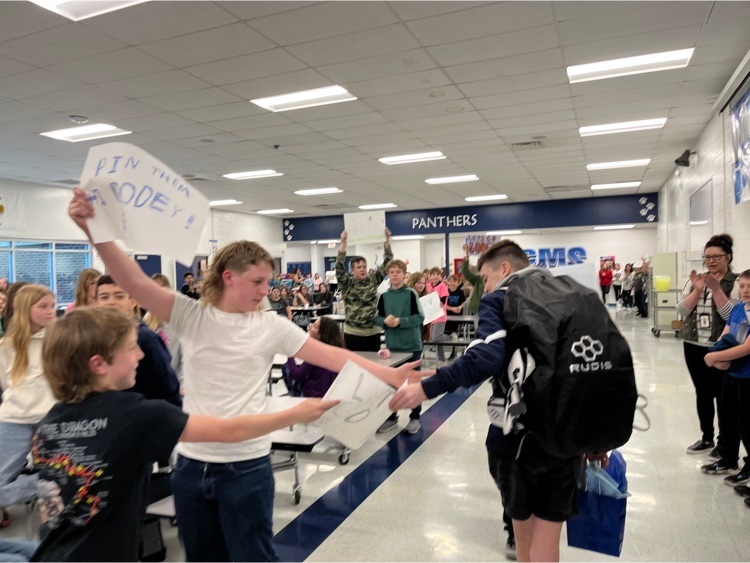 JCAD and JCH invite you to attend a Community Resource Fair featuring resources for ATOD Prevention, Treatment, Recovery, and Support. This must attend event is taking place today, March 9, 2023, from 4-6:30pm @ the Susnig Center. There is no entrance fee and door prizes will be given away. Parents, guardians, community members, middle and high school students are encourage to attend.

JCMS Volleyball comes to a close with a tough 8th grade regional semifinal loss to Edwardsville Liberty. They finish with a 17-2 season record and Co-Champions of the MCC. These student athletes and coaches had an amazing season and make Jersey PROUD! The future of Jersey volleyball is very bright!