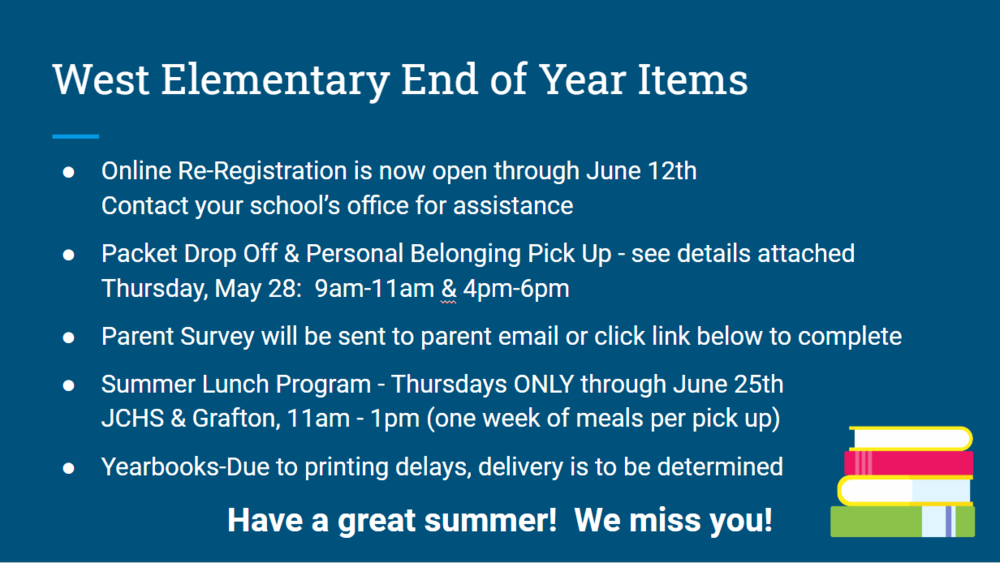 West Elementary End of Year Items for Parents
Kristie Hurley-Principal
Wednesday, May 20, 2020
PACKET DROP OFF DETAILS:
Many students at West had personal belongings left at school and/or ordered school pictures. Your child's teacher will contact you if they have belongings and/or pictures that need to be picked up. Depending on grade level, remote learning packets may need to be returned. Again, your child's teacher will notify you regarding what you may need to turn in.
To make this pick up of belongings and drop of learning materials as convenient as possible, we will offer two "drive-thru" opportunities. On Thursday, May 28, you may drive-thru from 9 a.m. to 11 a.m. OR from 4 p.m.-6 p.m to pick up personal belongings and/or drop off learning materials. We will have staff that will assist in distributing belongings and collecting materials in a contactless fashion.
The drive-thru will take place in our regular kindergarten car line. Please remain in your vehicle. To speed up service, please put a sign with the grade level(s) and teacher(s) of your children on the passenger side of the windshield. Large, dark print is appreciated. We will do our best to distribute belongings and collect materials as quickly as possible.
If neither of these time frames work for your family, please don't hesitate to call our office any time between 9 a.m. and 2 p.m. on school days or email me directly (kristie.hurley@jersey100.org), and we will work with you to determine an alternate pick-up time.
PARENT SURVEY:
Parent Survey Link
Your feedback is important to making improvements for future Remote Learning planning. Please take 5 minutes to share your thoughts. You only need to complete the survey one time for all of the elementary students in your household. Click on the link below.