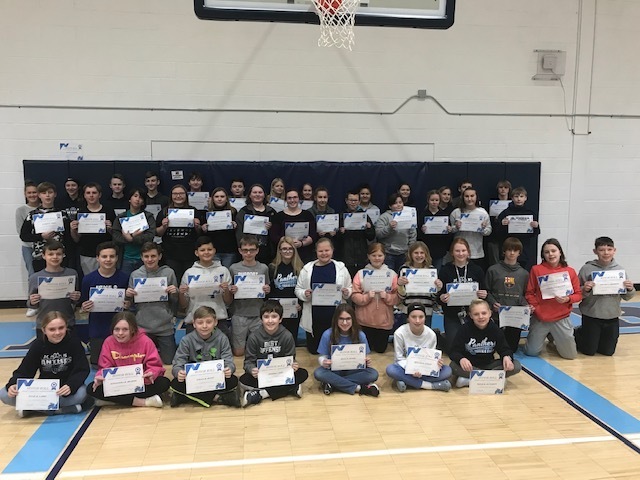 JCMS Students earn Honor Roll Recognition
Dr. Jason Brunaugh
Thursday, January 30, 2020
Recently, 2nd Quarter Honor Roll Students were announced at JCMS during lunch periods. High Honor Roll students must earn a GPA of 4.75-5.0 and Honor Roll students earn a GPA of 4.5-4.74. WE ARE VERY PROUD OF YOU!!!!
The following Students were recognized for their achievement:
7th Grade High Honor Roll - Phillip L. Balfour, Jayce C. Baro, Grace N. Bechtold, Bryce T. Becker, Katreona G. Benedict, Abbigail M. Benz, Charlie L. Bockstruck, Jaxon J. Brunaugh, George H. Buchanan, Adam R. Coffman, Christian R. Dugger, Logan X. Fields, Morgan L. Gray, Brayden T. Groves, Hailey M. Heineman, Hunter D. Herkert, Timothy S. Herrera, Cain W. Holmes, Kate M. Hudson, Logan M. Huitt, Reese M. Hutchens, Camryn A. Johnson, Addison G. Kelly, Joseph C. Kiel, Hunter A. Koenig, Ellie M. Laird, Arianne R. Leslie, Jenna R. Longley, Andrew P. Lyons, Maggie C. Maxeiner, Alexandra M. Meador, Molly A. Mellas, Abagail R. Mossman, Kiley R. Pickel, Alane L. Plunkett, Avery M. Reeder, Sarah L. Robles, Garin S. Schleeper, Katie L. Schultz, Elyse K. Short, Damon L. Sumpter, Mylee R. Turner, Ella M. Vandygriff, Clay J. Wadlow, Gage A. Walker, Carson S. Wallace, Rachel L. Warren, and Corree E. Yates.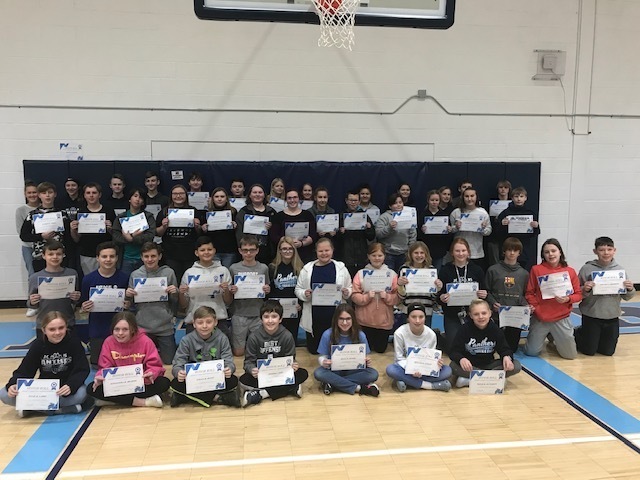 7th Grade Honor Roll - Elias H. Baney, Alexandria R. Barnes, Kelsey N. Belcher, Jordan M. Bolds, Grace S. Bounds, Rose L. Brainerd, Ava L. Burney, Gage V. Carey, Payton R. Carter, Katelyn B. Crone, Jaren A. Eads, Max E. Gettings, Kenli K. Graham, Madalyn M. Hedger, Madison N. Hodges, Benjamin R. Jamison, Avery J. Johnson, Tyler J. Johnson, Alexis M. Kuebrich, Dylan J. Lamparter, Sophia F. Liley, Hayden M. Lowry, Jace D. Marshall, Dylan M. Molloy, Riley J. Oates, Sebastian Z. Robinson, Ethan M. Rothe, Hailey M. Ruyle, Ashlen D. Scott, Kortney N. Stumpe, Jordyn L. Tinker, Ashlynn M. Ulery, Joseph D. Velikis, Carleigh S. Wangler, and Caroline A. Ward.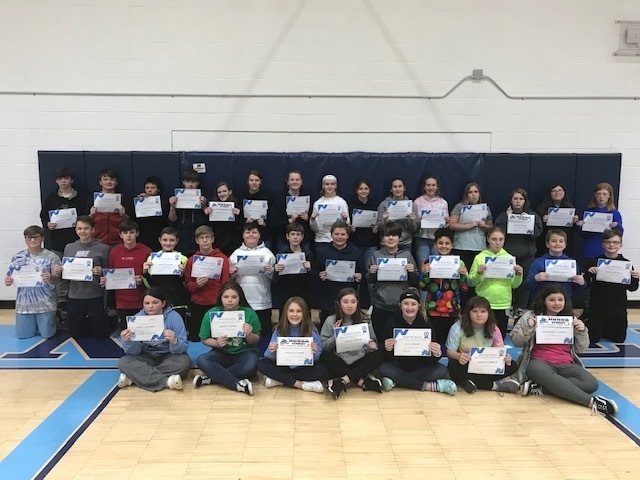 6th Grade High Honor Roll - John D. Adams III, Abigail L. Behl, Ethan T. Benner, Madalyn L. Bodenbach, Cali L. Breden, Ethan J. Buerk, Abigail L. Chin, Brayden M. Cox, Ariana M. Davis, Clint M. Deist, Kamryn A. Drainer, Ethan R. Edwards, Kimberlee J. Ford, Shayla R. Friedel, Chloe E. Hartman, Jacob R. Hetzel, Bryce L. Hutchens, Jeremiah A. Kanallakan, Ava N. Little, Hayden D. Longley, Emma R. Lyons, Brady E. Maxeiner, Alyson A. Muscarella, Izabelle H. Peuterbaugh, Abigail D. Piazza, Mallory L. Plunk, Mylie J. Ramirez, Max D. Reeder, Aliyah M. Robbins, Hannah M. Samples, Ethan B. Settles, Griffin M. Smith, Raeanna M. Speidel, Logan A. Strong, Jack D. Trexler, Alex K. Vest, Jackson D. Wade, Logan A. Wade, and Abigail A. Wedig.
6th Grade Honor Roll - Zachary O. Arnold, Kyler E. Bick, Adrian J. Blasa, Clark B. Blasa, Hope C. Buttry, Jonathan I. Cannon, Victoria S. Clark, Elise M. Feddersen, Aidan J. Fogle, Cooper H. Gillis, Lauren A. Hewitt, Caden M. Klunk, Lucas E. Long, Willow C. Mccoy, Nora J. Mifflin, Payton E. Mooney, Grace M. Plunk, Ayden P. Quinn, Nolan W. Raub, Mason A. Roberts, Marleigh I. Stagner, Sophia E. Sutton, Connor J. Talley, Alexis N. Taul, Kristopher M. Turnbaugh, Savana L. Walker, Lila K. Wayne, and Alexis L. Williams.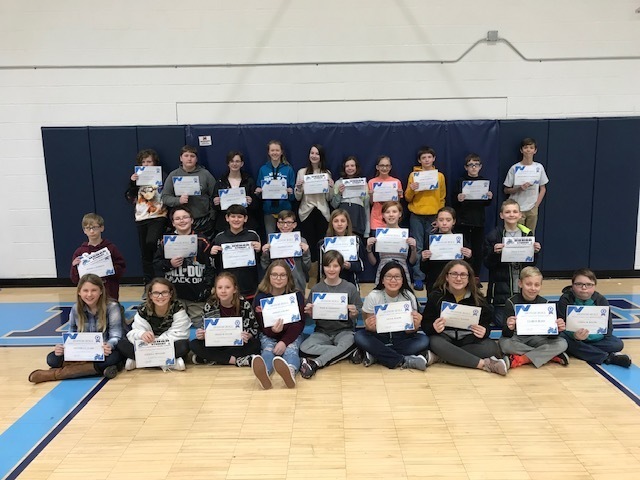 5th Grade High Honor Roll - Madalyn G. Aday, Rosalie O. Ball, Kylie A. Bean, Anna F. Beauchamp, Chloe I. Beemer, Emma E. Bogle, Aden M. Brunaugh, Evan L. Carter, Katherine J. Cornelius, Breonah K. Daley, Haven L. Davenport, Rylie N. Dewitt, Kaelyn M. Forrester, Morgan L. Fritz, Mason G. Frost, Drake A. Gallegos, Hailee J. Gill, Peyton D. Grindstaff, Corie R. Heitzig, Stone E. Heitzig, Lilian C. Judkins, Kiley A. King, Alaina L. Laird, Josie R. Lakin, Riley J. Latempt, Alex B. Martin, Meryre L. Maynard, Amelia M. Miller, Carson R. Nevlin, Gavin M. Parris, Katelynn E. Perkinson, Dawson R. Petrea, Anna M. Phillips, Carter R. Raines, Myra J. Rawe, Michael T. Roberts, Alayna M. Rothe, Cheyenne R. Scott, Kaylee G. Shaw, Rory G. Speidel, Morgan P. Steckel, Clara I. Storey, Kaden M. Strohbeck, Samantha M. Strubberg, Ethan M. Talley, Leah R. Van Deven, Kenzi B. Vandygriff, Maebre A. Varble, Brookelyn M. West, and Benjamin H. Zimmerman.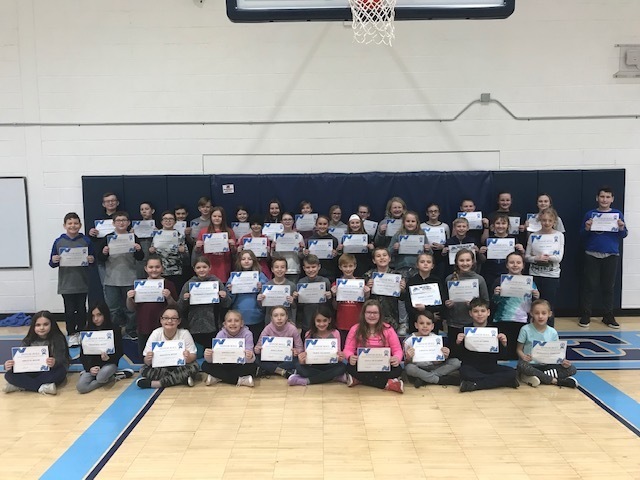 5th Grade Honor Roll - Kenyon B. Cartwright, Emmalynn F. Entrikin, Madelyn R. Hagen, Alexis R. Hedden, Evalyne R. Herrmann, Hayden D. Hill, Mea L. Ivey, Brogan C. Kanallakan, Kylee S. Krueger, Marley L. Marshall, Jaylynn R. McCoy, Makinna S. Moore, Ryan W. Strang, Haylie J. Wells, Bryan M. Westfall, Riley E. Wilson, and Peyton R. Wittman.