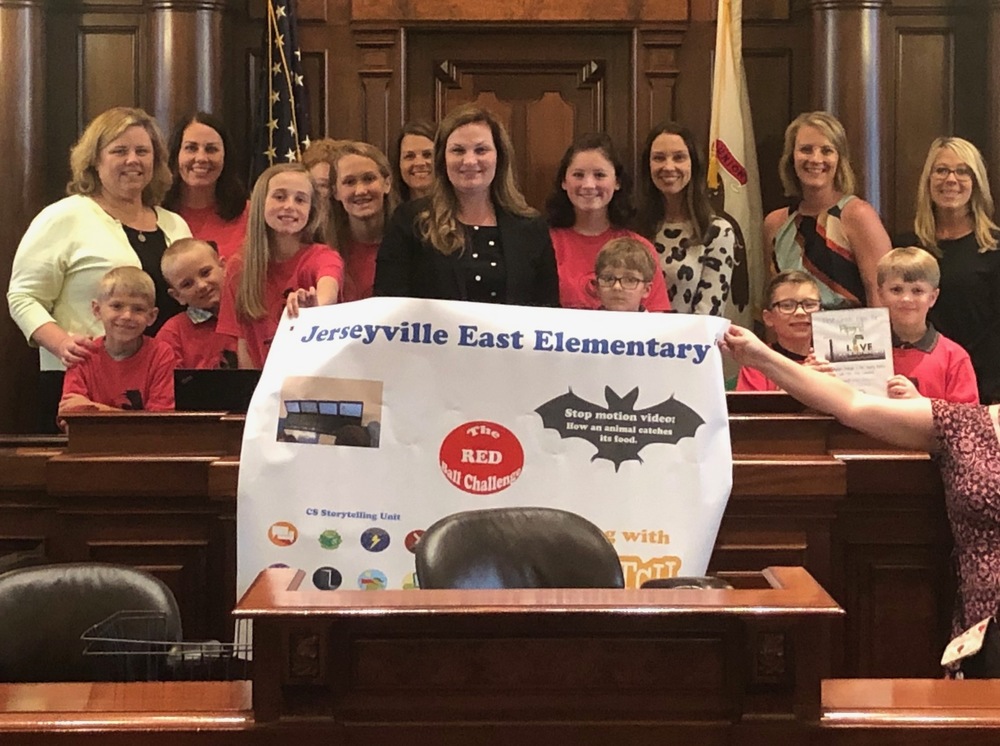 Tech 2019 at the Illinois State Capitol
Digital Coach
Tuesday, May 07, 2019
Jersey CUSD 100 was very well represented at the Illinois State Capitol today. Four teams of students and teachers showcased the technology they are using in their classrooms. Mrs. Heitzig (JCHS) and Mrs. Desherlia (Jerseyville East Elementary) and their students showcased their monster project using Green screen and app smashing. Mrs. Campbell's students (Jerseyville West Elementary) explained how first grade students use Flipgrid. They even had technology experts from across Illinois tweet about 1st grade using Flipgrid! Mrs. Pranger's students (JCMS) showcased their robots and explained how they program them. Mrs. Burney's students ( Jerseyville East Elementary) showed off their coding skills and explained how to use Google Slides to make stop action videos.
The students were treated to a tour of the capitol by State Senator Rachelle Crowe. Thanks so much to Senator Crowe for taking the time to show us around.
Also, Thanks to Senator McClure and Representative Davidsmeyer for taking the time to meet with the Jersey 100 teams. Senator Steve McClure stopped by each presentation and had the students explain their projects. Representative C.D. Davidsmeyer also stopped by and spoke with one of our groups.